Easy Glacier Walks in Iceland
10 minute read - 02 Jul 2018
Hike on a Glacier in Iceland
Exploring a glacier is one of the most exciting things you can do in Iceland. If you have never hiked on a glacier before and are worried you will not be fit enough, here you can read more about easy glacier hikes in Iceland.
What is a glacier?
More than 10% of Iceland is covered by glaciers. Glaciers are large blocks of ice formed when snow stays long enough in a place to turn into ice; layers of ice and snow are compressed over the years and centuries into thick ice masses, the glaciers. If you are in Iceland you should definitely not miss the chance to get close to the glaciers with glacier hiking or walking tour.
Icelandic glaciers are unique
What's unique about glaciers in Iceland is that they constantly move and, by doing so, the ice on the surface cracks creating crevasses, fissures and sometimes caves. Ice caves create beautiful landscapes with amazing colors that go from white to blue and black because of the rocks and volcano ashes trapped in the ice. In Iceland, we very often find glaciers on top of active volcanoes. When the volcanoes erupt the ice from the glacier above them melts very quickly and sometimes creates very strong rivers called jökulhlaup, glacier run, which can be destructive. If you are traveling in the south of Iceland, you will cross Skeiðarárbrú bridge on the way to Skaftafell National Park: this bridge has been damaged by glacial runs so many times and destroyed in 1996. You can see the remains of the old bridge a bit further down the road with a sign explaining how it got destroyed.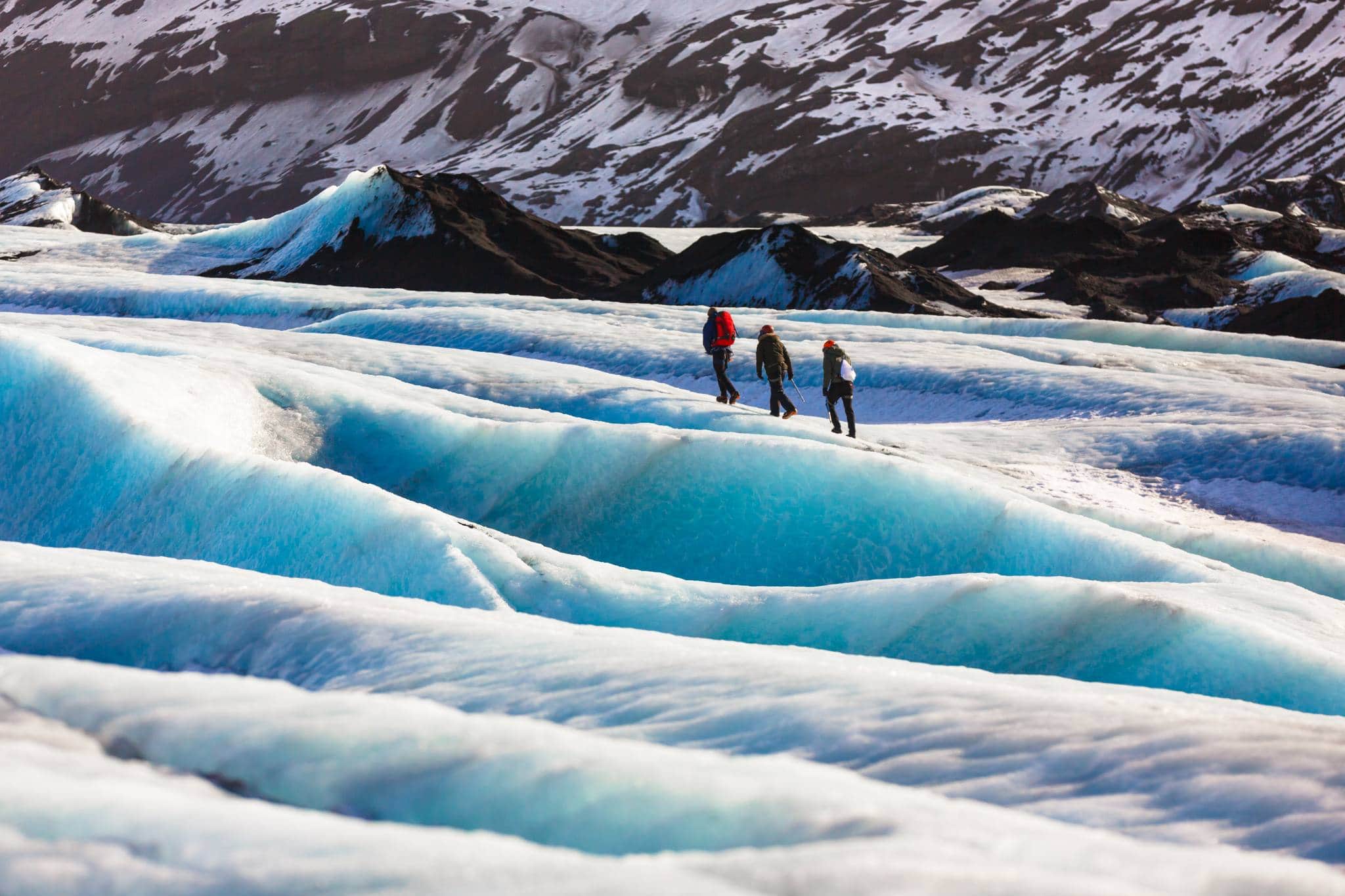 Glaciers in Iceland
There are so many beautiful glaciers in Iceland it is hard to choose which ones to mention. Vatnajökull is the biggest glacier in Iceland and the largest glacier in Europe. Located in the south-east of Iceland, it has many glacier tongues, each with its own name. Vatnajökull National Park is the largest national park in Europe, covering an area of about 12000 km2. Want to hike on this huge glacier? You can do so on our 2 Day Jokulsarlon Glacier Lagoon Tour + Glacier Hike. The hiking tour is relatively easy but you need to be in good shape as you have to hike and climb on ice for a few hours.

Langjökull is the second biggest glacier in Iceland. The name literally means "long glacier" and it comes from its shape. It is located in the west of Iceland and is very popular for snowmobiling tours or the Into the Glacier Tour. On this tour, you can see the inside of this spectacular glacier by walking through man-made tunnels. The tour for everyone: specially modified glacier vehicles take you up to the ice tunnels and back and the hike inside the tunnel itself is quite easy. This can be a day tour from Reykjavik or a great addition to Iceland Premium Tours' Private Hvalfjordur Tour.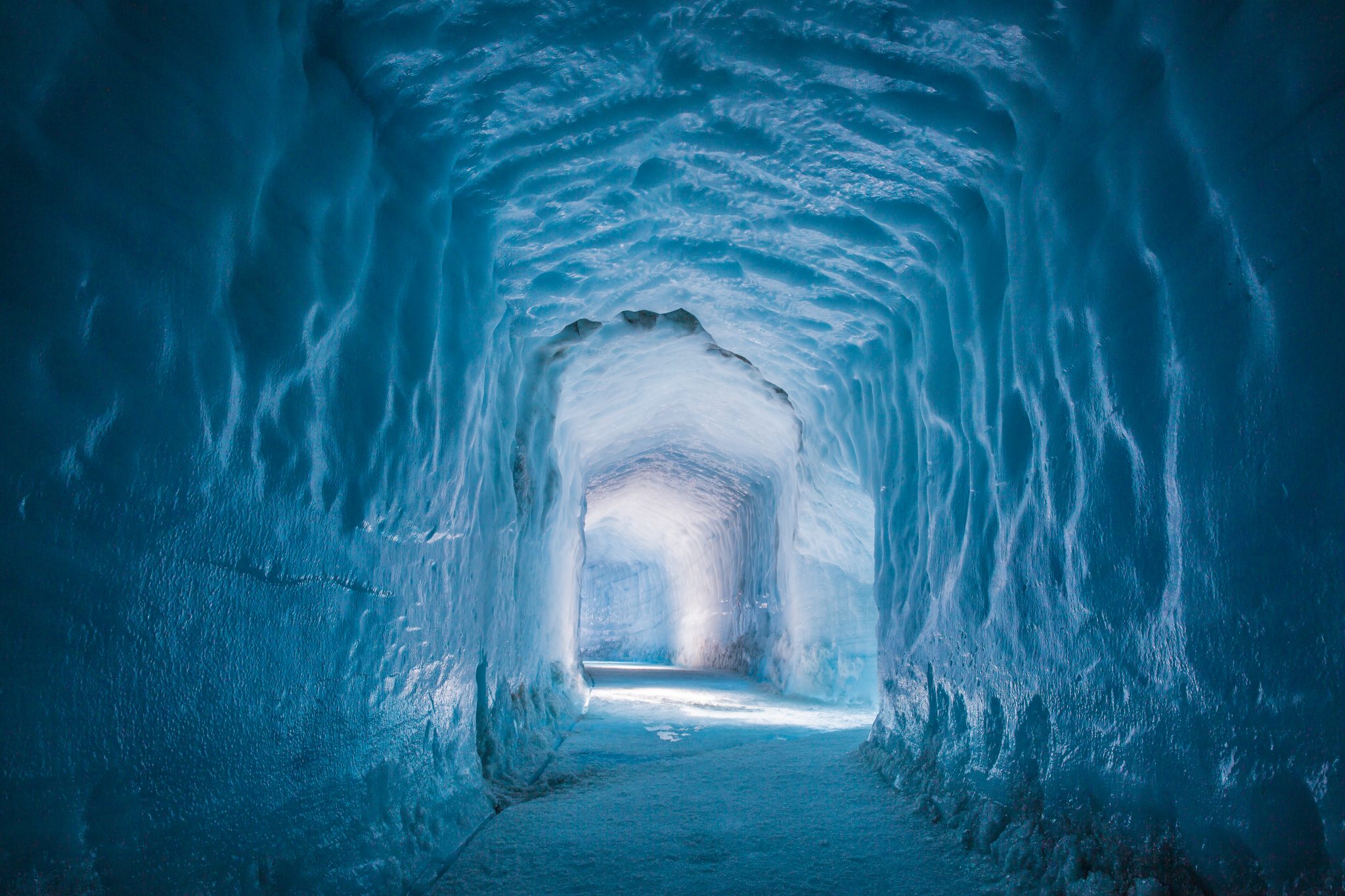 Sólheimajökull Glacier
One of my favorite glaciers is Sólheimajökull, a glacier tongue that is actually part of the bigger Mýrdalsjökull glacier, on the south coast of Iceland. This glacier is easy to access and it is very popular for glacier walking and ice climbing. It is a great experience to explore the magic of this Icelandic glacier with its stunning range of colors, its ice sculptures, water cauldrons, and ridges. If you are in Iceland, you should definitely not miss the chance to get close to the glaciers with an easy Glacier Walking Tour. Glacier Walking is a very exciting activity but because of their constant moving and changing, glaciers are as beautiful as they are dangerous. If you want to experience the magic of walking on a glacier, you should always do so with a specialized guide. In Iceland, you can find a great range of exciting Glacier Walking Tours with different levels of difficulty and duration. On Sólheimajökull, there is a tour for everyone, even if you have never been on a glacier before. Experienced and trained guides are always with you to share their stories and make sure you have a great time in complete safety.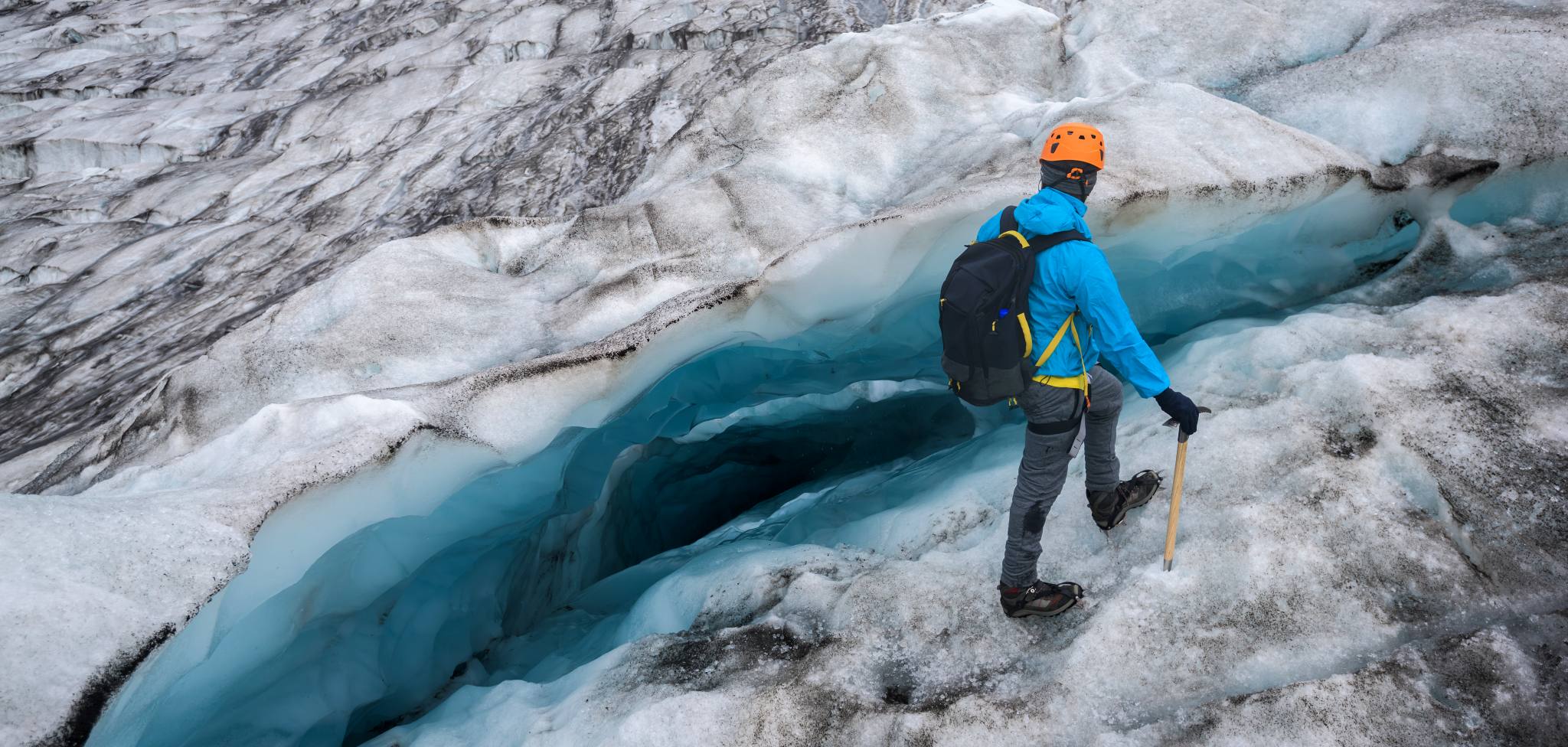 Glacier hiking in Iceland
Glaciers in Iceland and in other parts of the world are melting and retreating quite quickly because of global warming so what you see while you walk on a glacier will never be the same again as the landscape keeps changing while the ice melts. Walking on a Glacier in Iceland is quite an experience as you get close to the Icelandic nature, walking on ice that formed thousands of years ago while the spectacular rock formations that the glacier has shaped through the years create breathtaking views. Glacier Walking will definitely be an exciting once in a lifetime experience which will leave you with great memories.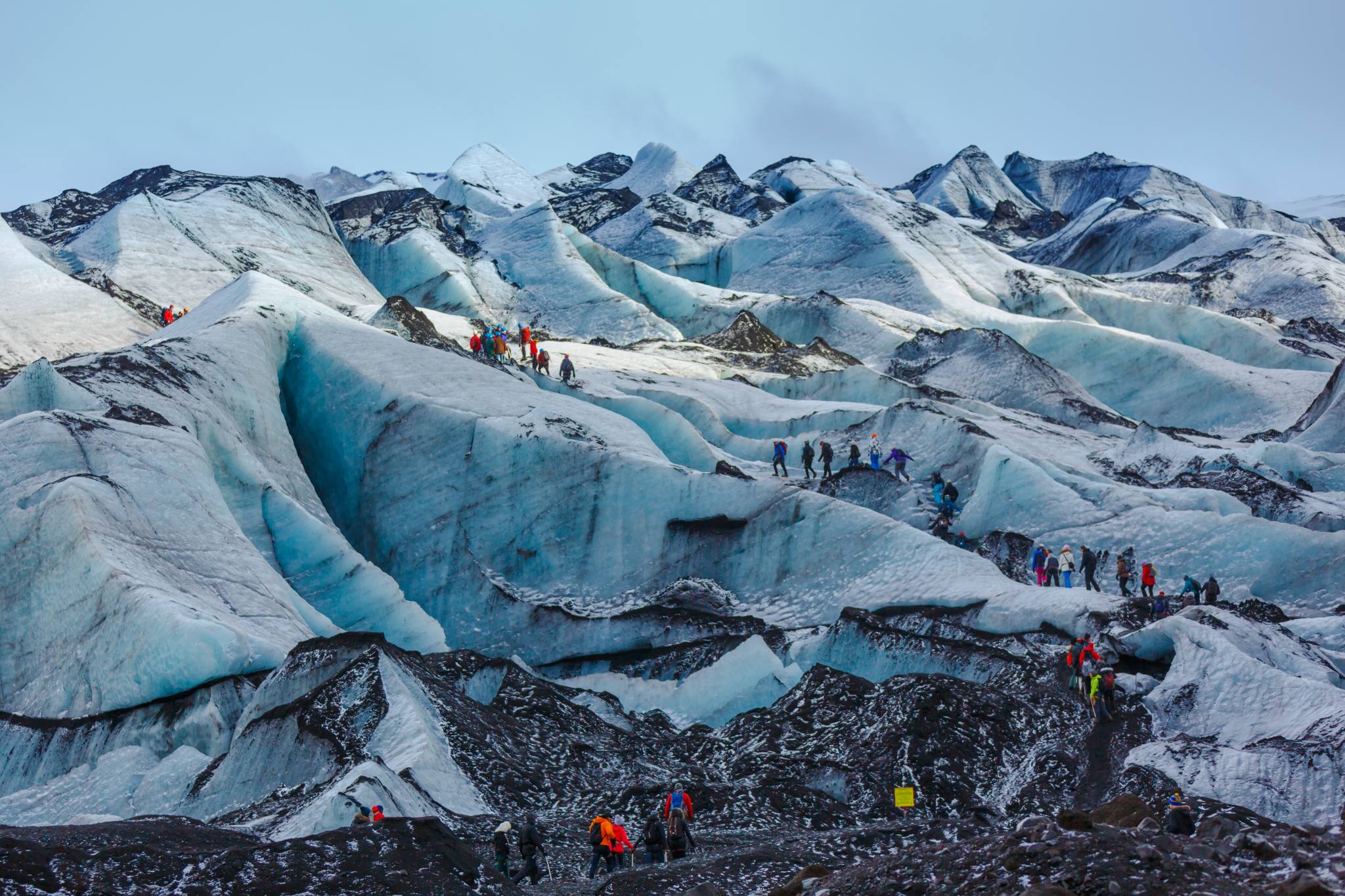 You can easily add an easy hike on Sólheimajökull to our Premium South Coast Tour. So make sure you wear proper clothes, possibly three layers to keep you warm and dry, and book a Glacier Walking Tour to experience some of the magic of Icelandic nature.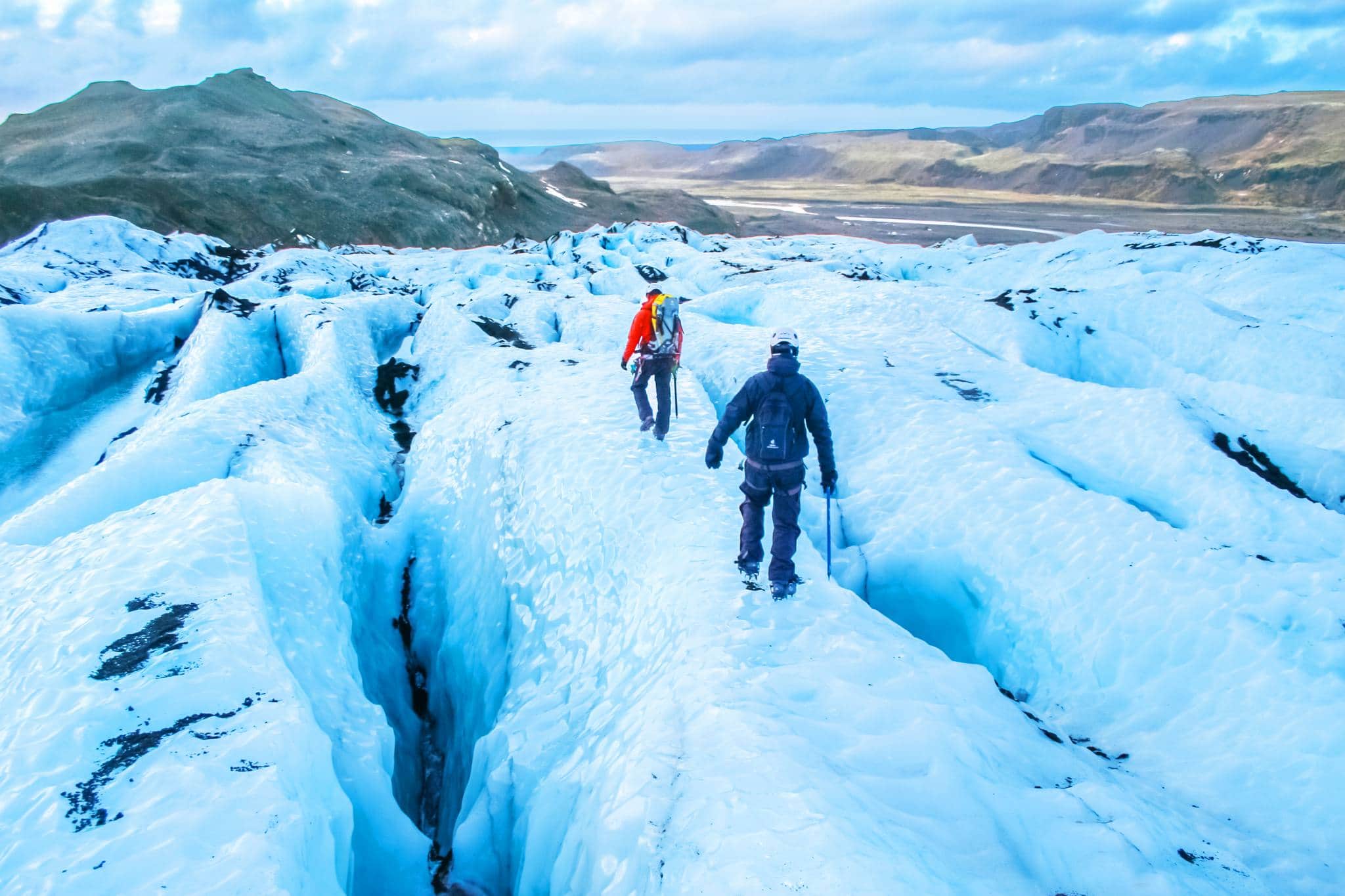 Iceland has so much to offer and it's all here waiting for you. Check out our Iceland Premium Private Tours for some unforgettable experiences!