Geothermal Pools in Iceland
5 minute read - 13 Jun 2018
One of my favorite things to do in Iceland is soaking in the hot waters if Iceland's many geothermal pools. I know it might sound crazy to think about being in a pool when it is cold outside, but it is something Icelanders have been doing for centuries, pools in Iceland are naturally warm thanks to the abundance of geothermal energy found in the country and they are a great place to socialize and relax, in any weather.
So what are the best pools in Iceland?
I personally love going to the local pools you find in the capital area and in every village but, if you are looking for something special and with all the comfort, there are six very interesting spas around Iceland that offer a great experience out of the ordinary: the famous Blue Lagoon, the Secret Lagoon, and the Fontana Spa in the South, the Nature Baths in Mývatn, Krauma Spa in West Iceland and the newly opened Vök Baths, in Iceland's East Fjords.
1. The Blue Lagoon
The Blue Lagoon is the most famous and most luxurious of the Icelandic pools. Started as an environmental accident, it is now one of the most popular attractions in Iceland, that almost everyone visits during their holiday in the country. The Blue Lagoon gets its name by the color of its water, which is blue because of the minerals it contains, especially the silica and the way it reflects the sunlight. This water is also said to be very good for curing psoriasis. Only a short drive from Keflavik Airport, the Blue Lagoon offers a bar in the pool, a spa, a cafe, and an excellent restaurant. A great idea would be to take a Reykjanes Tour with a stop at the Blue Lagoon.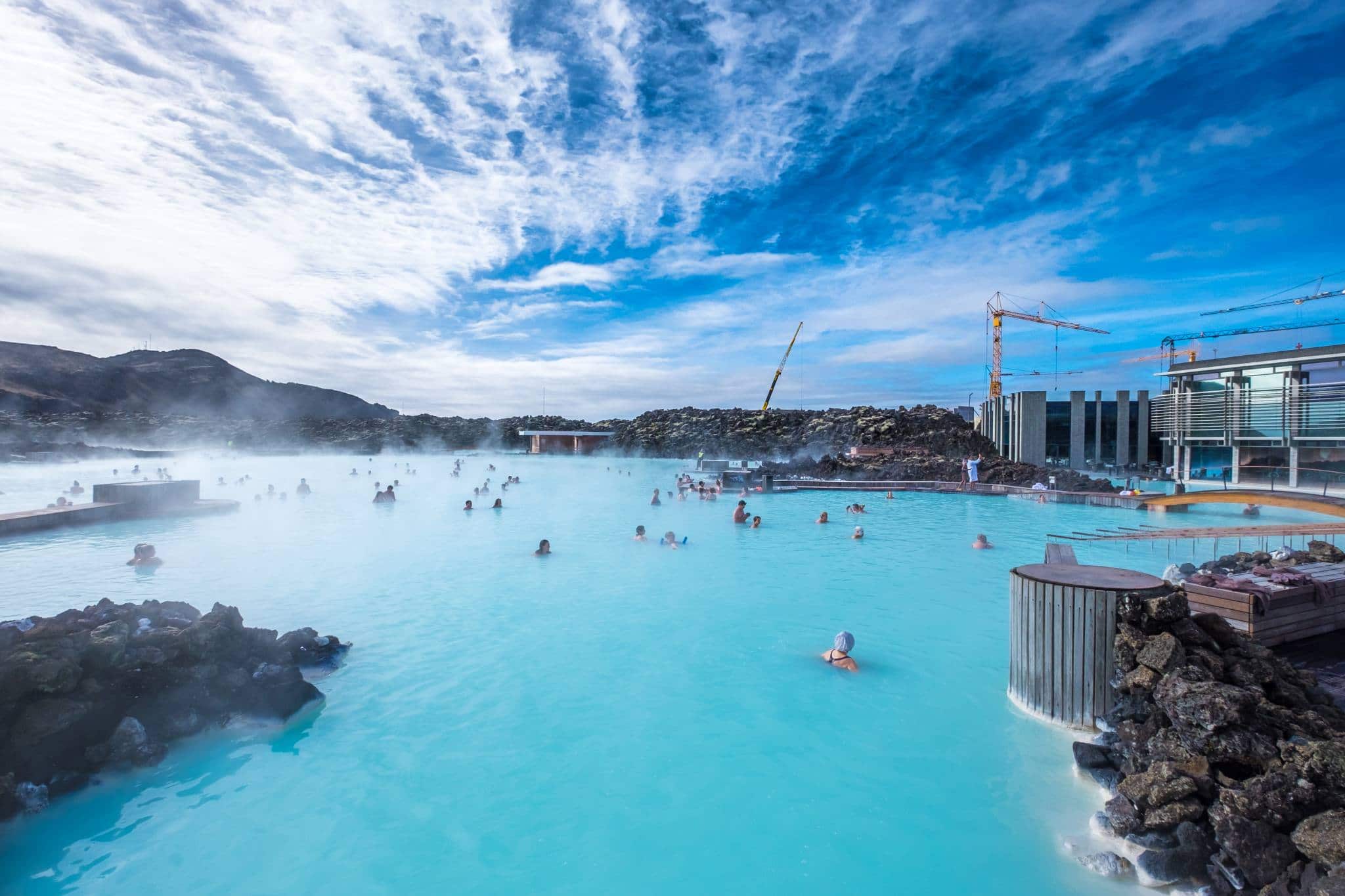 2. The Secret Lagoon
This is one of the oldest pools in Iceland, the Icelandic name "Gamla Laugin" actually means "old pool". Far from being a secret, this lagoon is a natural pool with hot water steaming all around it and even a small geyser that erupts quite regularly. Located in a small village called Fluðir on the Golden Circle route, it is a beautiful place where you can feel the magic of Icelandic nature all around you. Facilities here include showers, changing rooms and a cafe. One of my favorite tours in Iceland is the evening tour to the Golden Circle and the Secret Lagoon in the evening when you can enjoy the Icelandic Midnight Sun. If you are not in Iceland in the summer, you can add a visit to this pool to the regular private Golden Circle Tour.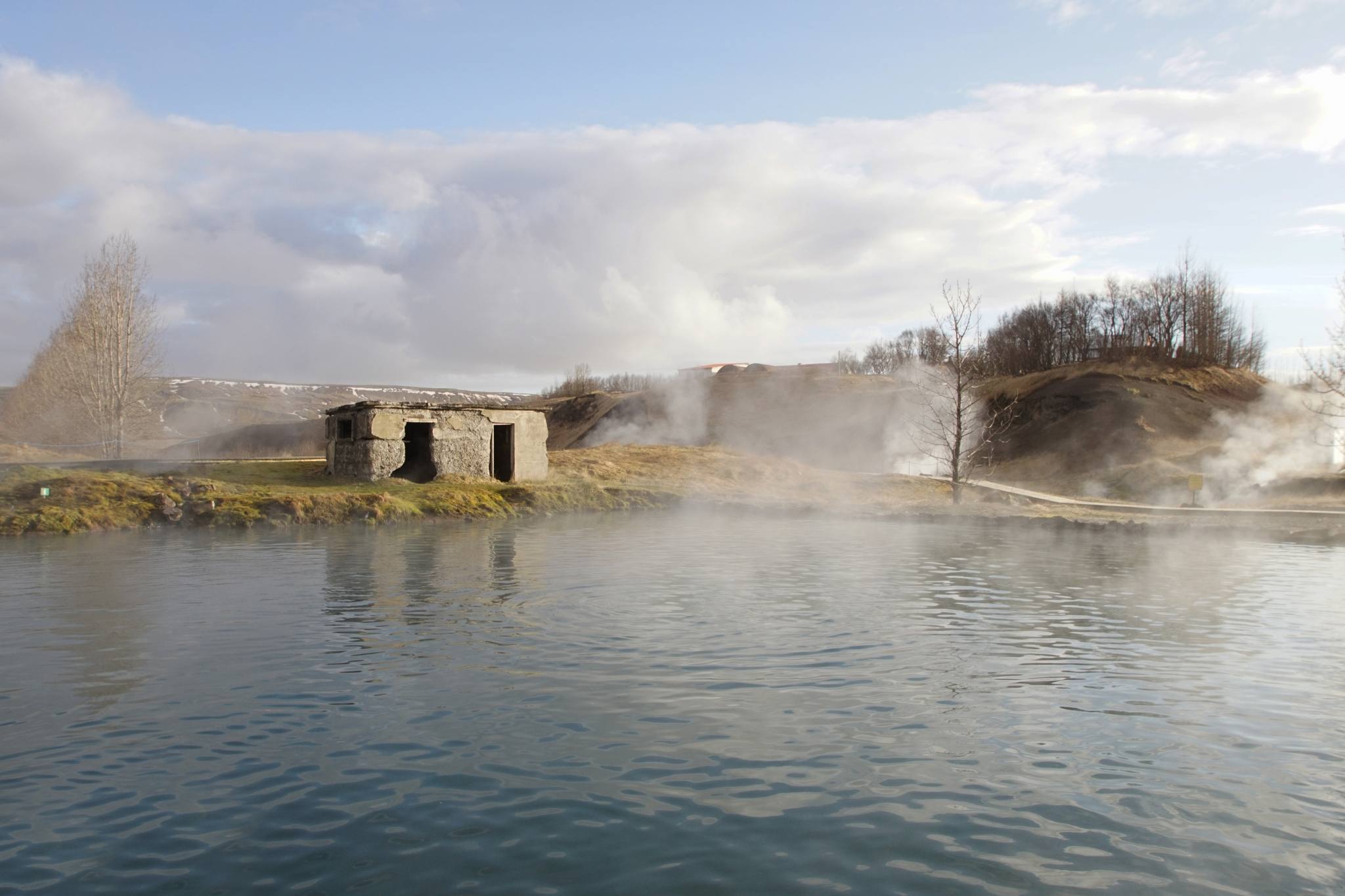 3. Fontana Spa
Fontana Spa is in Laugarvatn, a small village surrounded by nature on the Golden Circle Route. A thermal pool, hot tubs, saunas, and steam rooms are what make this place worth a visit but do not forget to take a tour of their geothermal bakery and try their delicious bread!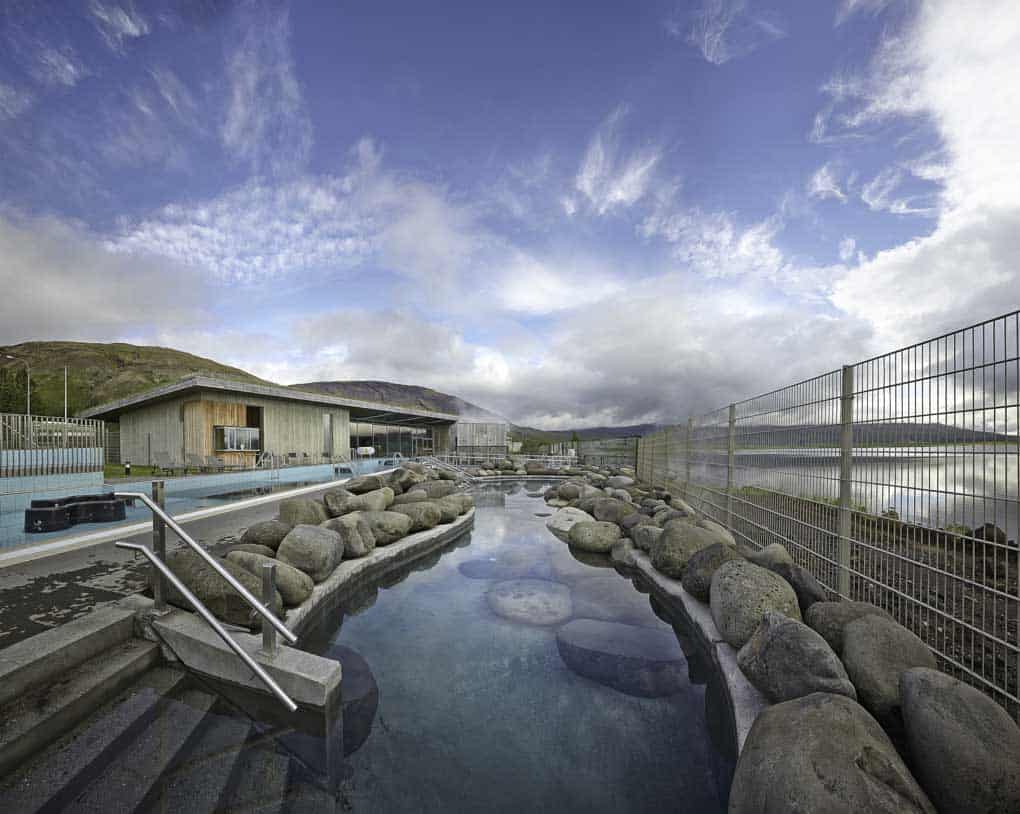 4. Mývatn
Located in Lake Mývatn Geothermal Area in the North of Iceland, not far from Akureyri, the Nature Baths are a smaller and less touristy replica of the Blue Lagoon. Here they offer a steam bath, a large pool filled with alkaline hot water, and a restaurant, all in a fantastic location. It is guaranteed that the scenery will take your breath away.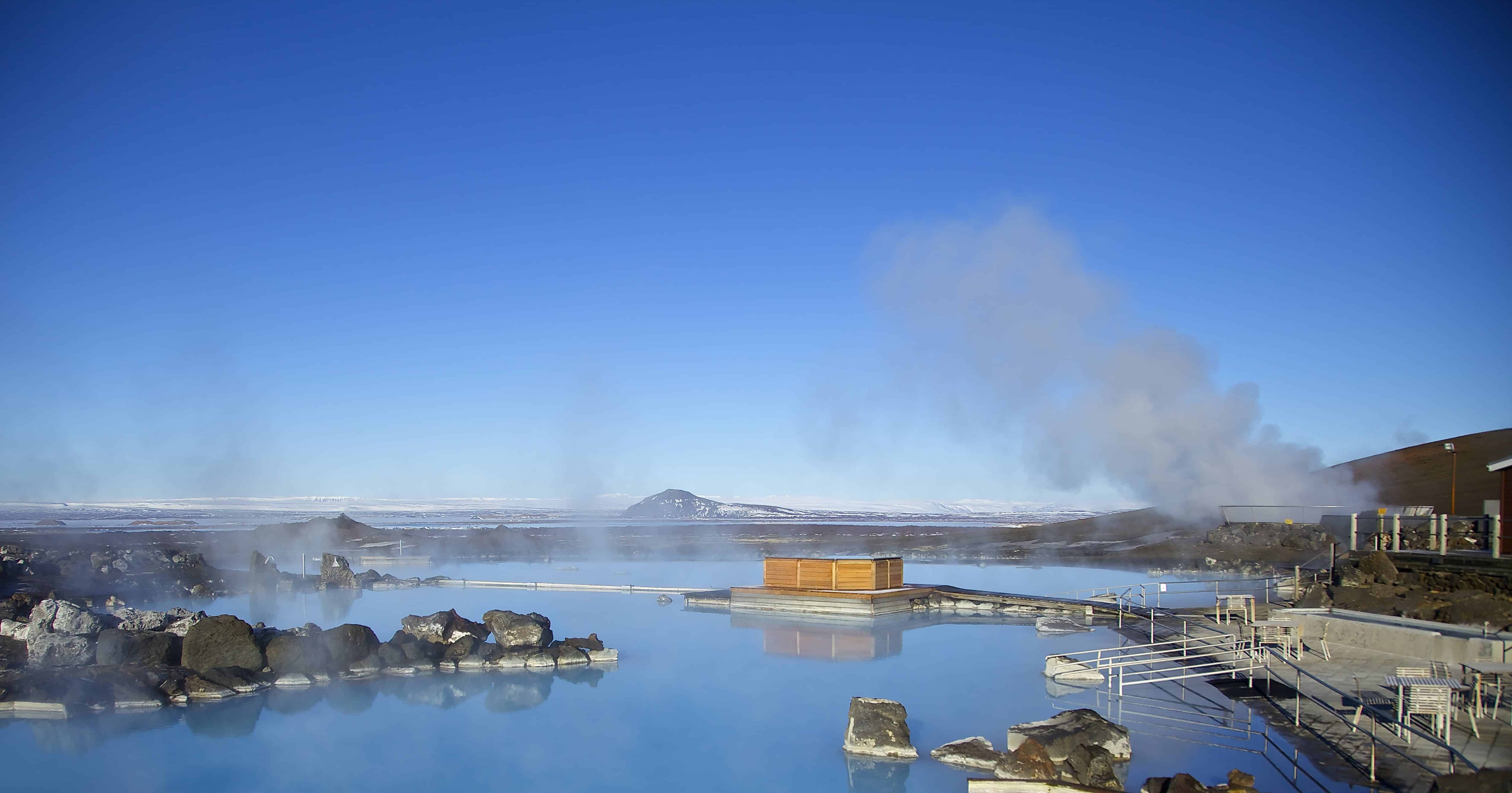 5. Krauma Resort
This is the newest geothermal pool in Iceland, opened in late 2017. Krauma Spa is located near Deildartunguhver, Europe's most powerful hot spring. Since the water coming from this source is too hot, the water you find in Krauma is cooled down by adding cold water coming from a nearby glacier. You can relax in hot tubs or in the sauna, after a day exploring the area. Check out our private Hvalfjorður -Hot Springs and Waterfalls Tour to explore West Iceland and Krauma.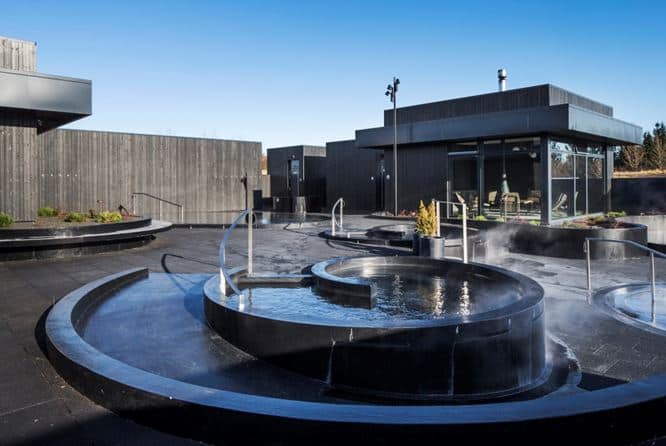 6. Vök Baths
Only recently opened, Vök Baths offer a collection of geothermal floating pools, located on Lake Urriðavatn in Iceland's East Fjords. At Vök Baths you have the chance to bathe in hot water pools within the lake, thus living a unique experience in Iceland, as this type o pools cannot be found anywhere. These are certainly a must if you are traveling in East Iceland. Pack your swimsuits and get ready to enjoy Iceland's pools and spas in any season and in any kind of weather. Live Iceland like a local! Visit our Facebook to read our reviews.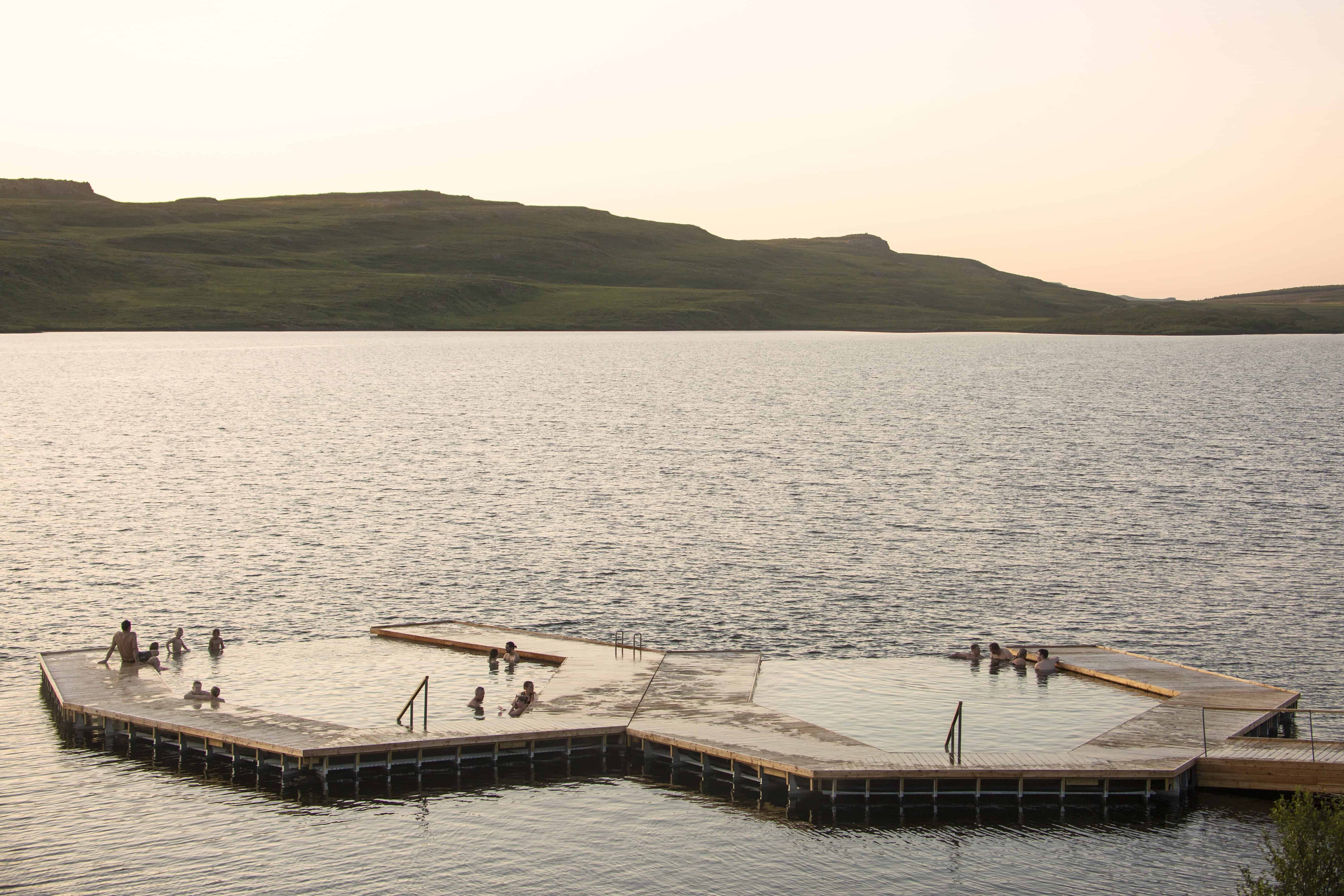 Good to Know Before Your Visit to a Geothermal Pool in Iceland
Pools can be found in Reykjavik, in the small villages around the country and even in the middle of nowhere and they are something you cannot miss if you want to experience Iceland like a local. If you are lucky, you might even spot the famous Icelandic singer Björk, who loves hanging out in the pool in West Reykjavik.
Pools have a small entrance fee, they have opening hours you should check before you go and if you forget your swimsuit or your towel, you can rent them there. Some pools are small, some big, some have saunas and steam baths, some even have water slides. What all the pools in Iceland have in common is something that usually upsets tourists quite a bit: you are required to shower naked before entering the pool. The changing rooms are of course separate for men and women and, although the biggest and most touristy pools and spas will offer showers with curtains, this is not usually the case and you will have to shower without your swimsuit on in front of people of the same sex. Trust me, it might feel weird at first but there is nothing to be ashamed or embarrassed about, as this is a common practice in Iceland and no-one will notice you. Washing properly is very important to keep the water clean and clear of bacteria, as the water in the pools is natural and does not contain much chlorine. Please respect the rules. And enjoy your soak in the warm water of Iceland!