Glacier Adventure on Snaefellsnes
5 minute read - 16 Aug 2018
Glacier Adventure Snaefellsnes It is no secret that the Snaefellsnes Peninsula is one of my favorite regions of Iceland. Often called "Iceland in a nutshell", Snaefellsnes has everything Iceland has to offer. Beautiful mountains, moss-covered lava fields, waterfalls, old volcano craters, cliffs, cute little towns, and even a glacier, Snaefellsjokull. I have traveled around Snaefellsnes many times, I try to go when I have some free time and always recommend it to everyone. It is a great detour if you are driving Iceland's ring road on your own, as well as a great day trip from Reykjavik. My favorite places on Snaefellsnes? Stykkisholmur, Arnarstapi, and of course Kirkjufell, the church mountain, probably the most photographed mountain in Iceland.
Our one day adventure
Last week I had a day off work and, since I had already done the whole tour of Snaefellsnes many times, I decided with my boyfriend to leave the city a little later and just focus on the southern part of the peninsula. The sun was shining and the forecast looked pretty good so we decided to organize a tour to the top of Snaefellsjokull glacier in the early afternoon, the Top Of The Diamond Tour.
Seals in Iceland
After a short stop in Borgarnes to stock up with goodies from the local bakery, we continued towards Snaefellsnes. Our first stop on the peninsula was Yitri-Tunga, a great place to spot some seals. We spotted so many of them! At first, we could not see them as they are the same color as the surrounding rocks but then, as we were walking closer, we were able to see a large number of seals just relaxing and yawning on the rocks. We walked very close to them and managed to take some pretty amazing pictures. I love seals so it was great for me to be able to see them so close. As we kept driving, the weather, which was supposed to be nice, started changing because of course we are in Iceland and the weather changes very quickly all the time. The glacier that we could earlier see in the distance started gathering clouds and the top disappeared. I was worried that our tour would be canceled but we continued towards the Snaefellsjokull glacier.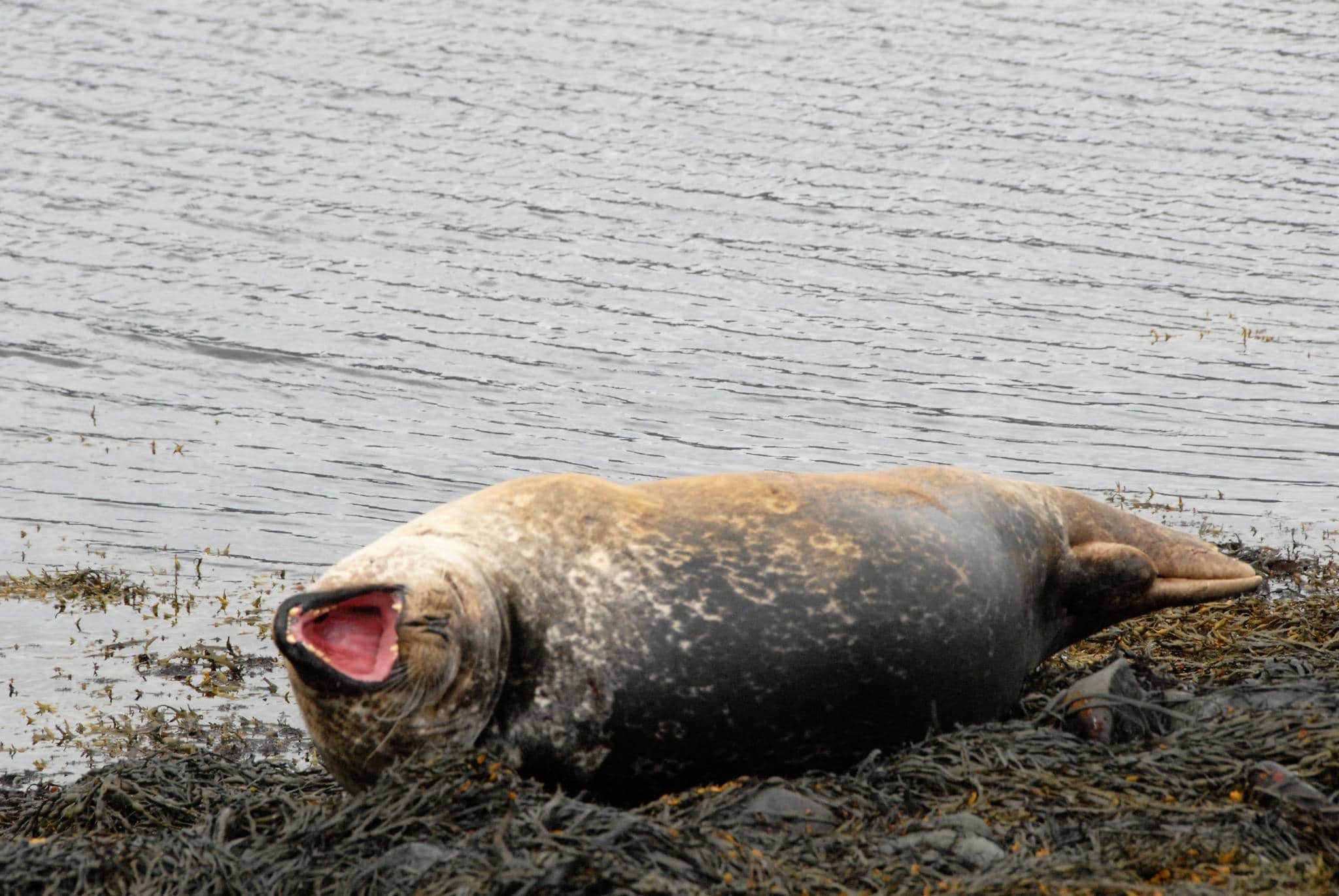 Arnarstapi and Snaefellsjokull
When we got to Arnarstapi, the glacier had almost completely disappeared. We could only see clouds covering the whole glacier and I was almost sure the tour would not run. We still had a little time so we took a walk along the cliffs in Arnarstapi and even saw some whales in the ocean. What a treat! The weather got a little better by the time we met our guide Hjalti, who welcomed us with a big smile and assured us the view from the top would be good. I have known Hjalti for a few years and he is a great guide. He looks like a real Viking, he is great with people and he always makes everybody happy so we knew our adventure to the top of the diamond was going to be great.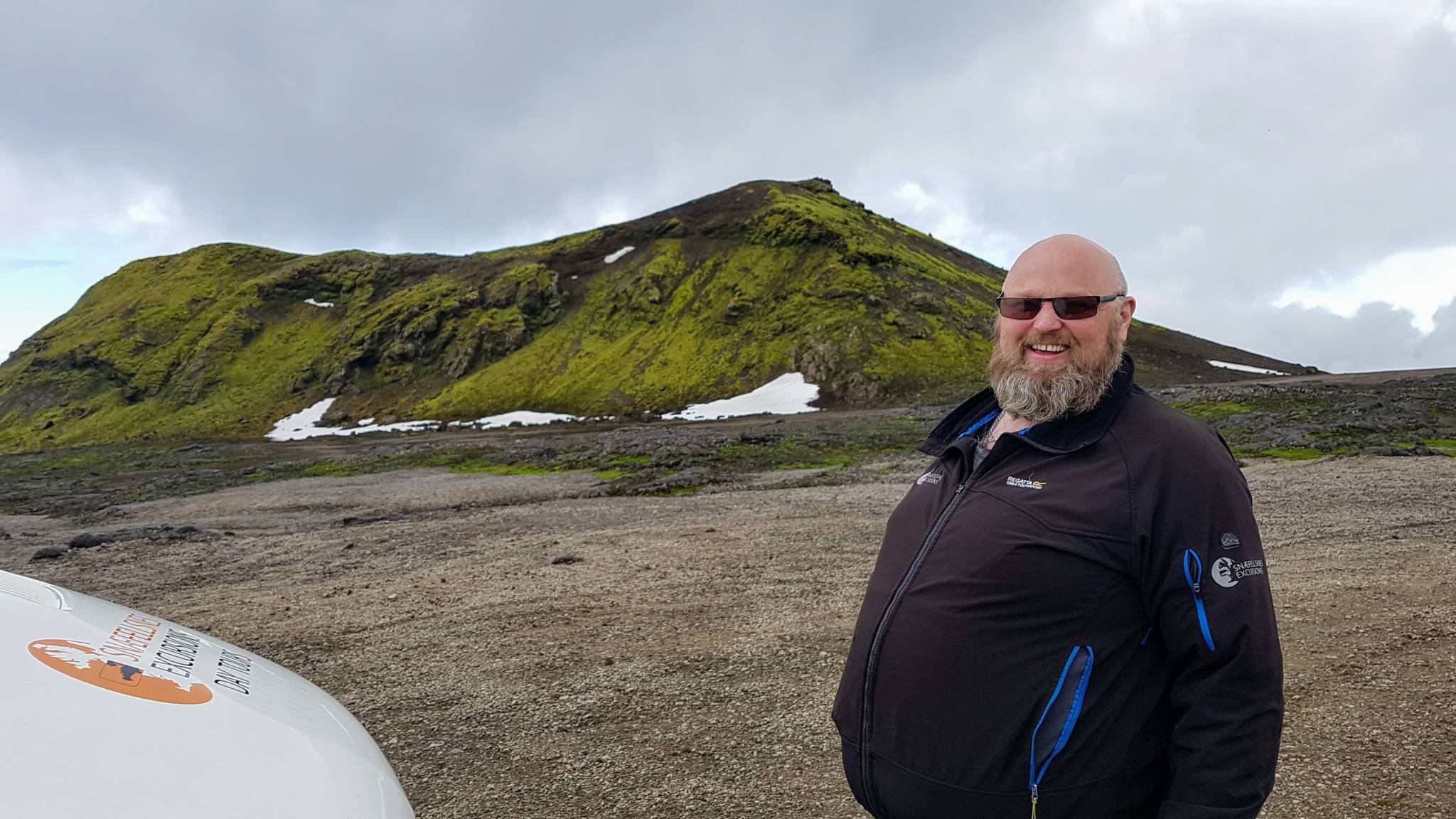 TO THE TOP OF THE DIAMOND
Our tour to the top of Snaefellsjokull really was a lot of fun. First we "climbed up" Hjalti's huge 4x4 truck to start our way towards the glacier. The path is beautiful and there are a lot of historic places on the way. After a beautiful ride through moss and lava fields, we arrived at the bottom of the glacier and changed vehicle. We were now on a snowcat ready to go to the top of Snaefellsjokull, the top of the Diamond.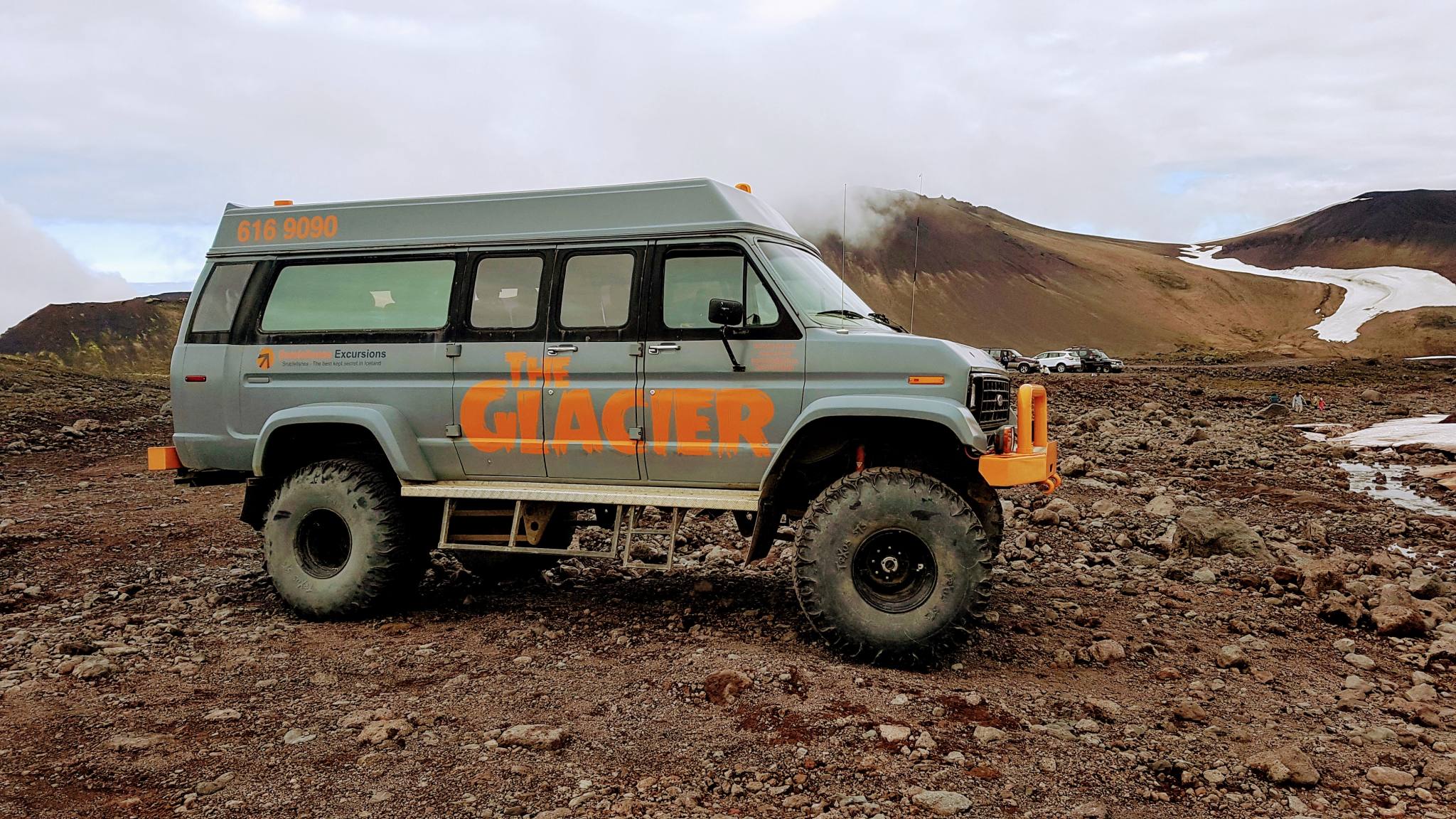 Snaefellesjokull glacier rises 1446 m above sea level, it is one of the most mystical places in Iceland, considered one of the eight points of power in the world. Jules Verne talked about this mountain in his novel Journey to the Center of the Earth putting on this glacier the entrance to a passage leading to the center of the earth. Whether this is true or just legend, our ascent to the top of Snaefellsjokull was just spectacular. The sky cleared a bit and we could see the coastline below us. As we were driving up, we met some people hiking and cross-country skiing which kind of made us feel bad and lazy. But on a second thought, she snowcat was fun and we could reach a wonderful place without too much work so there was no reason to feel bad at all.
When we got to the top, we walked around for a few minutes and took some pictures. It was like being above the clouds and the view was just fantastic, Hjalti was right. Snaefellsjokull is famous for its two peaks, there are two huge rocky peaks at the top and it was great to see them so close. Then of course, always because we are in Iceland and the weather changes quickly, it started raining a bit so we went back to the snowcat and started descending. The whole tour was about 2 hours and it was just great. It is a great tour to add to our Private Snaefellsnes Tour but keep in mind that it is very much dependent on the weather.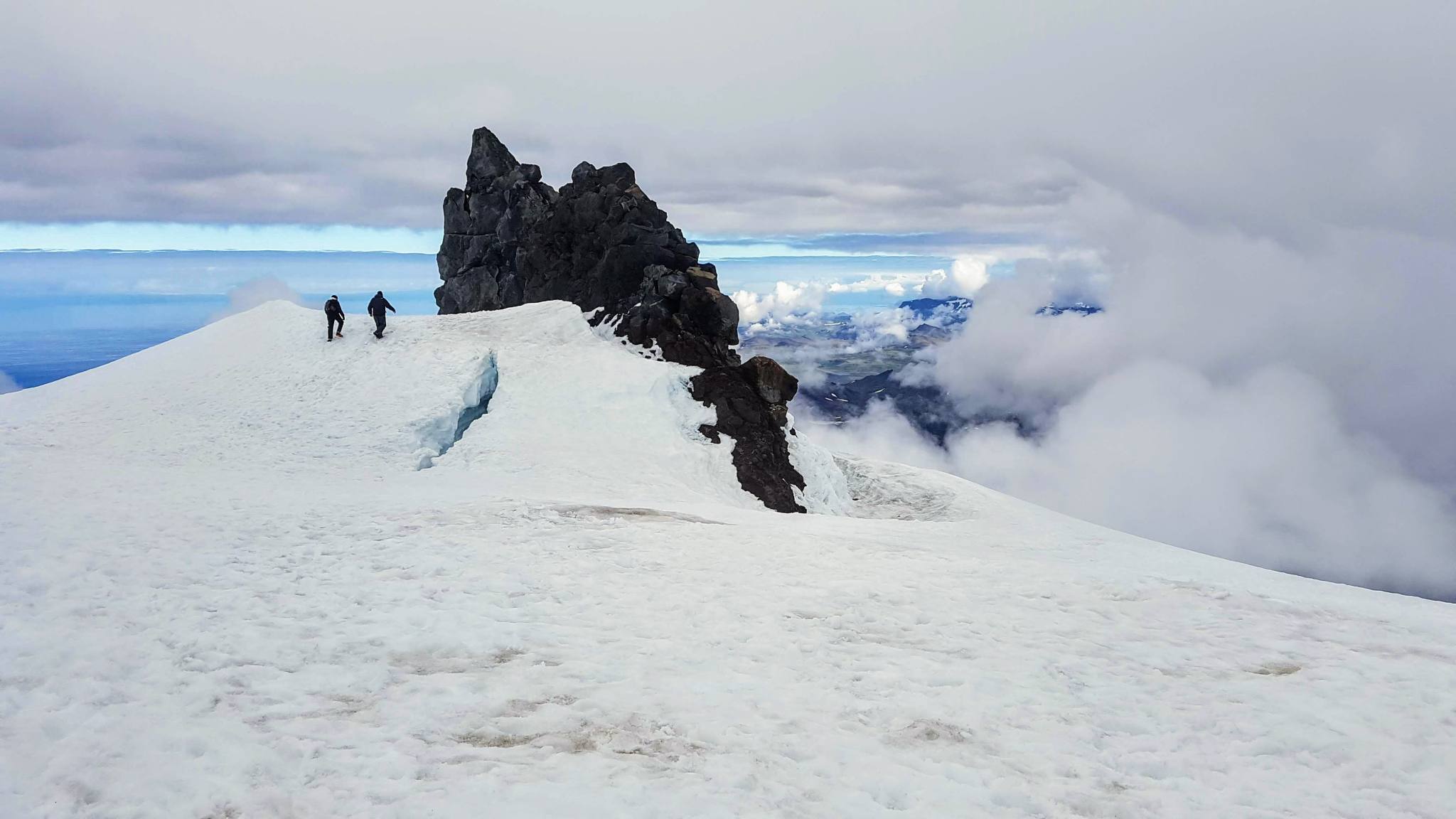 A RELAXING STOP
After the tour, we decided to take advantage of the weather that had turned beautiful again and stopped at a geothermal pool to relax. Lúsuhóll geothermal pool is located not too far from Arnarstapi and it is a real jewel. There are changing facilities and showers, a hot pool, and two hot tubs filled with mineral geothermal water rich in green algae and various minerals that are believed to have a soothing and healing effect on the body. We spent a good couple of hours tanning in the pool before heading back to Reykjavik just in time for dinner.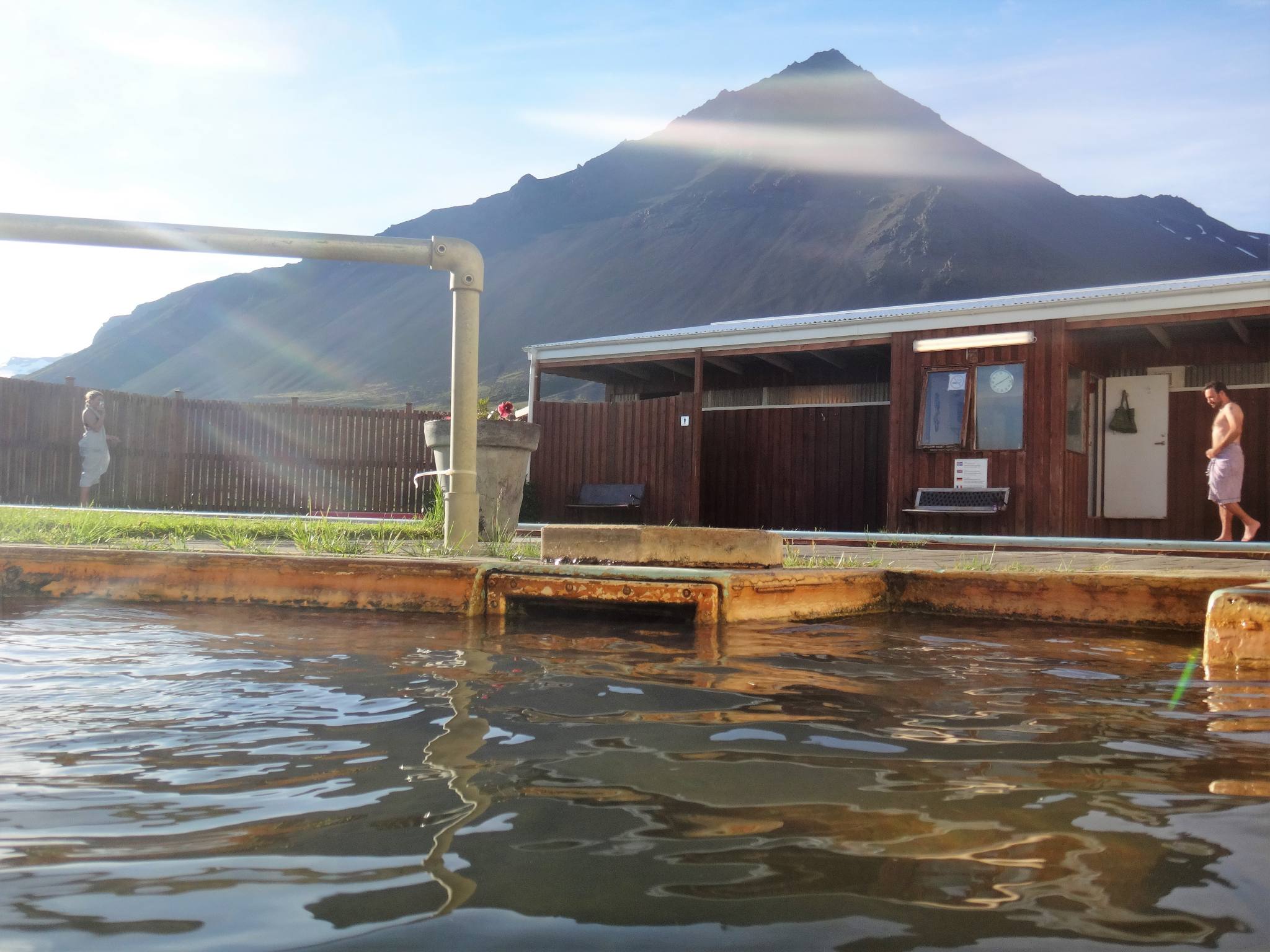 All in all, it was a great day full of fun and adventures. I had been wanting to go to the top of Snaefellsjokull for a very long time and I finally got the chance. If you are in Reykjavik wondering what to do, I would highly recommend booking a private tour to Snaefellsnes including the Top of The Diamond Tour. Your private guide from Reykjavik and Hjalti will make sure you have the time of your life, just like we did on this day tour. Visit our Facebook to read our reviews.