Golden Circle and South Coast -the best Combo Tour in Iceland
5 minute read - 22 Sep 2018
Golden Circle and South Do you have a short stopover in Iceland and wondering what are the best tours in Iceland for you to see as much as you can? Are you looking for the perfect Stopover Tour? This Private Golden Circle and South Coast Combo Tour are just what you need. The Golden Circle and The South Coast are the most popular tours in Iceland. Here you find some of Iceland's most beautiful landscapes that you should not miss during your trip to Iceland. More and more people have a short stopover or are staying in Iceland for just a few days, so we decided to combine the two tours to make an even better one. We waited for a nice day, took our comfortable 4x4 jeep and started driving...this is how our new Private Golden Circle and South Coast Tour came about. It is perfect for a short Iceland Stopover or if you are traveling in Iceland for a short time and looking for a great tour to make the most of your time.
The trip
We started our trip driving Nesjavallaleið scenic route. This road winds through old volcano craters and mountains offering spectacular views, especially as you drive along Thingvallavatn, Iceland's largest natural lake. Big pipes run all along the road, carrying hot water from the nearby Nesjavellir Geothermal Power Station to the city. For safety reasons, this road is closed in the winter but in the right season this in a spectacular road to drive, with beautiful views over the lake.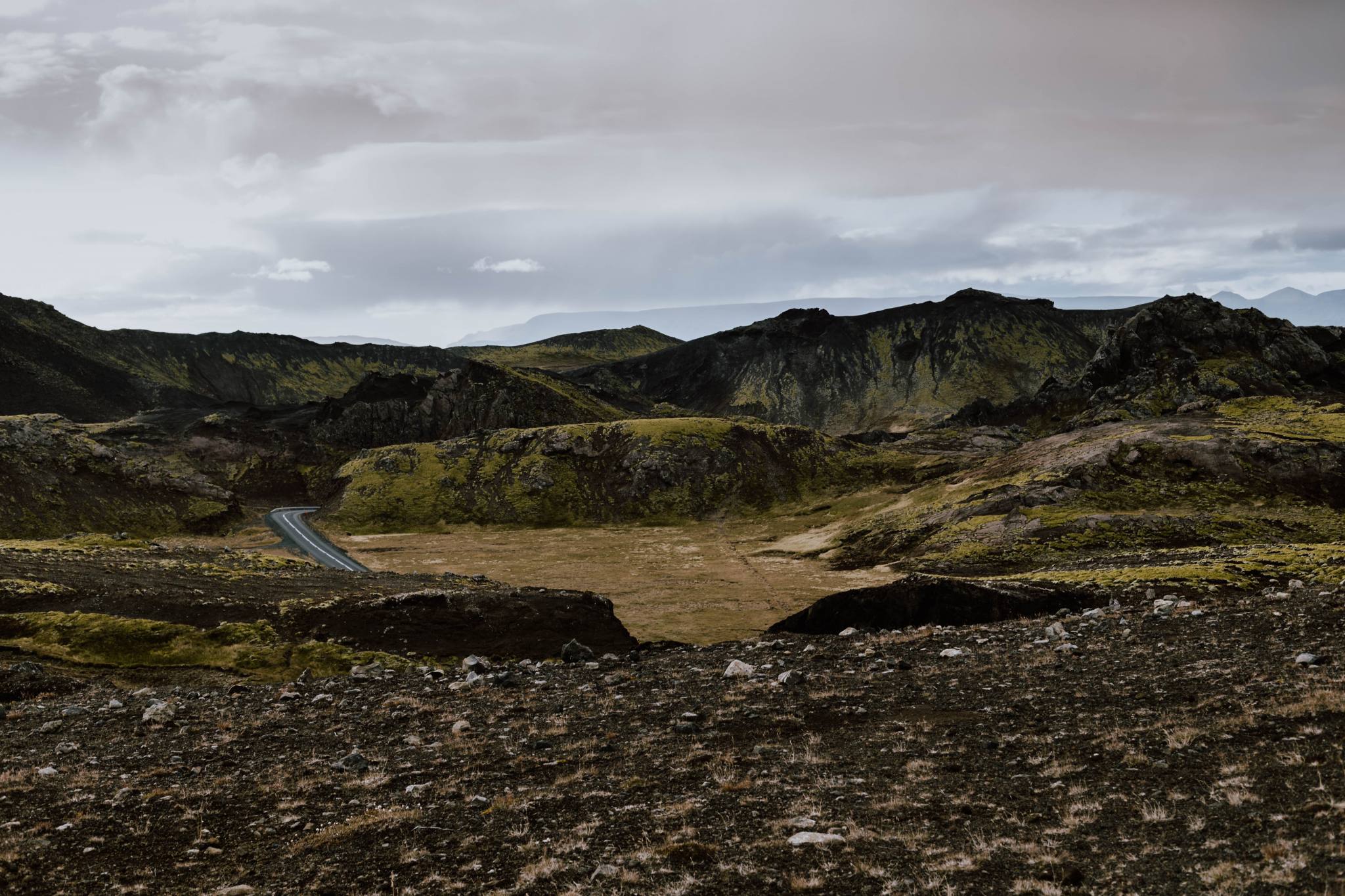 Thingvellir National Park
Our first stop of the tour was the famous Thingvellir National Park, site of the first parliament in the world, and an unmissable stop on the Golden Circle. Here we took some time to walk around and take pictures. We visited the parliament rock and the fissure created by the North American and the European tectonic plates drifting apart. Here you can dive or snorkel and it really is an interesting place to explore.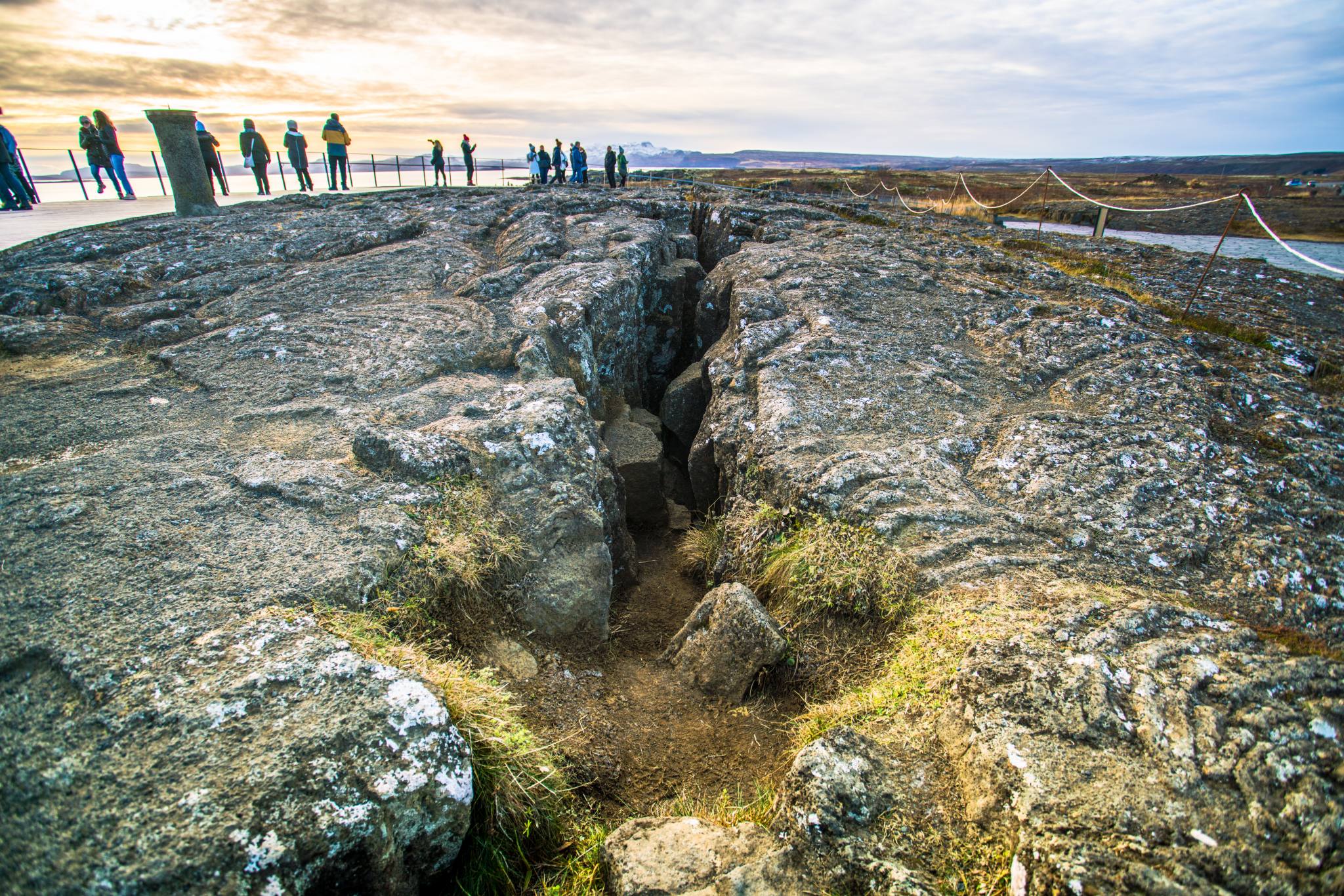 Geysir and Gullfoss
We then continued to Geysir, the famous spouting hot spring that originated the English word "geyser". Geysir erupts quite regularly, every 8-10 minutes, launching a powerful column of hot water and steam up in the air. It is impressive to see such an amazing natural phenomenon. Even though Geysir is the star of this geothermal area, I would recommend walking around a little, so you can see other hot springs and mud pools, with their amazing colors.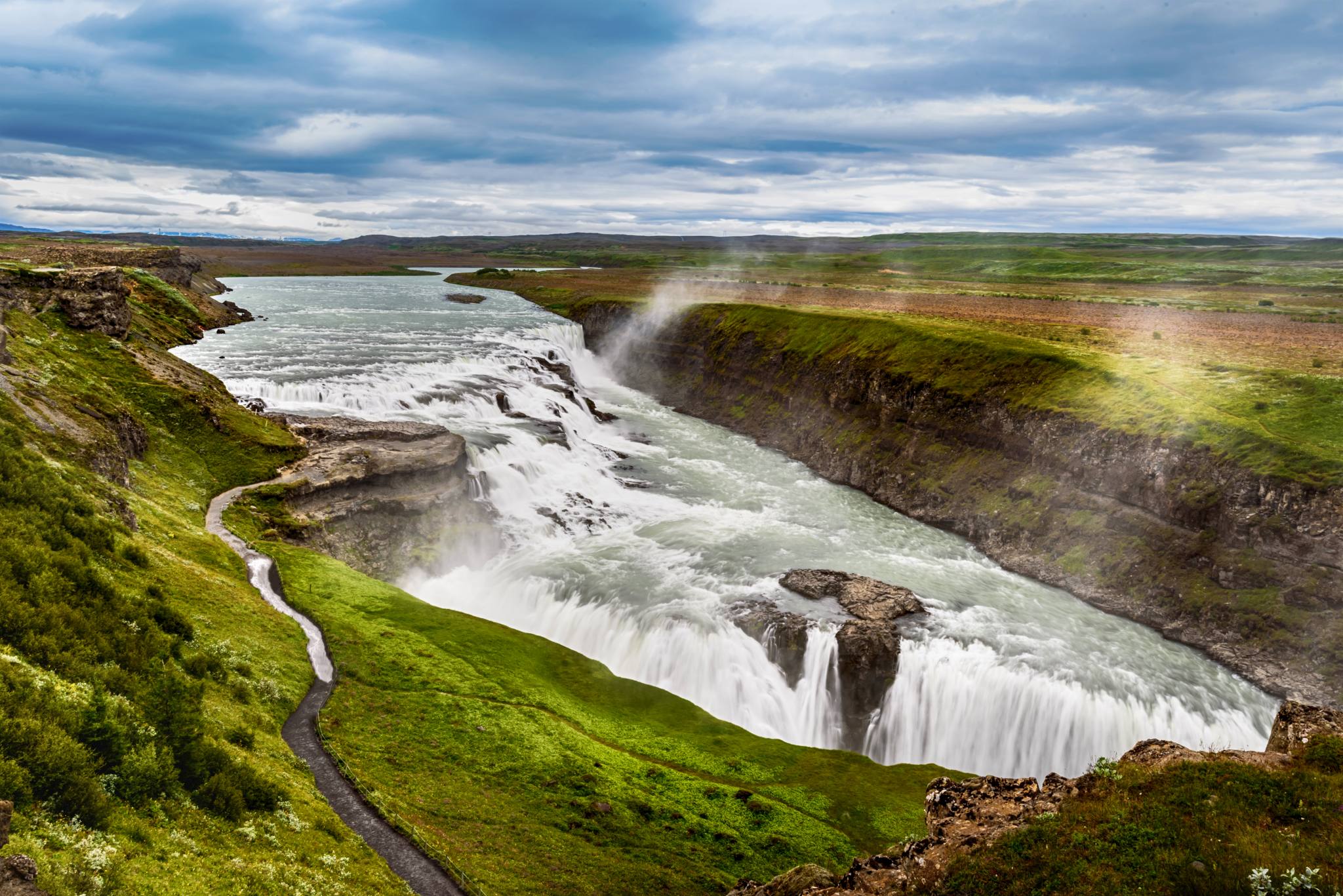 After Geysir, came Gullfoss, the Golden Waterfall, another highlight on the Golden Circle. This famous waterfall is so beautiful you just must see it when you are in Iceland, even if you only have a short stopover. Gullfoss gets its name of Golden Waterfall from the fact that on a sunny day the water looks like gold, with a rainbow over it. Here we had time to walk around and take pictures before heading to our next stop, the Secret Lagoon.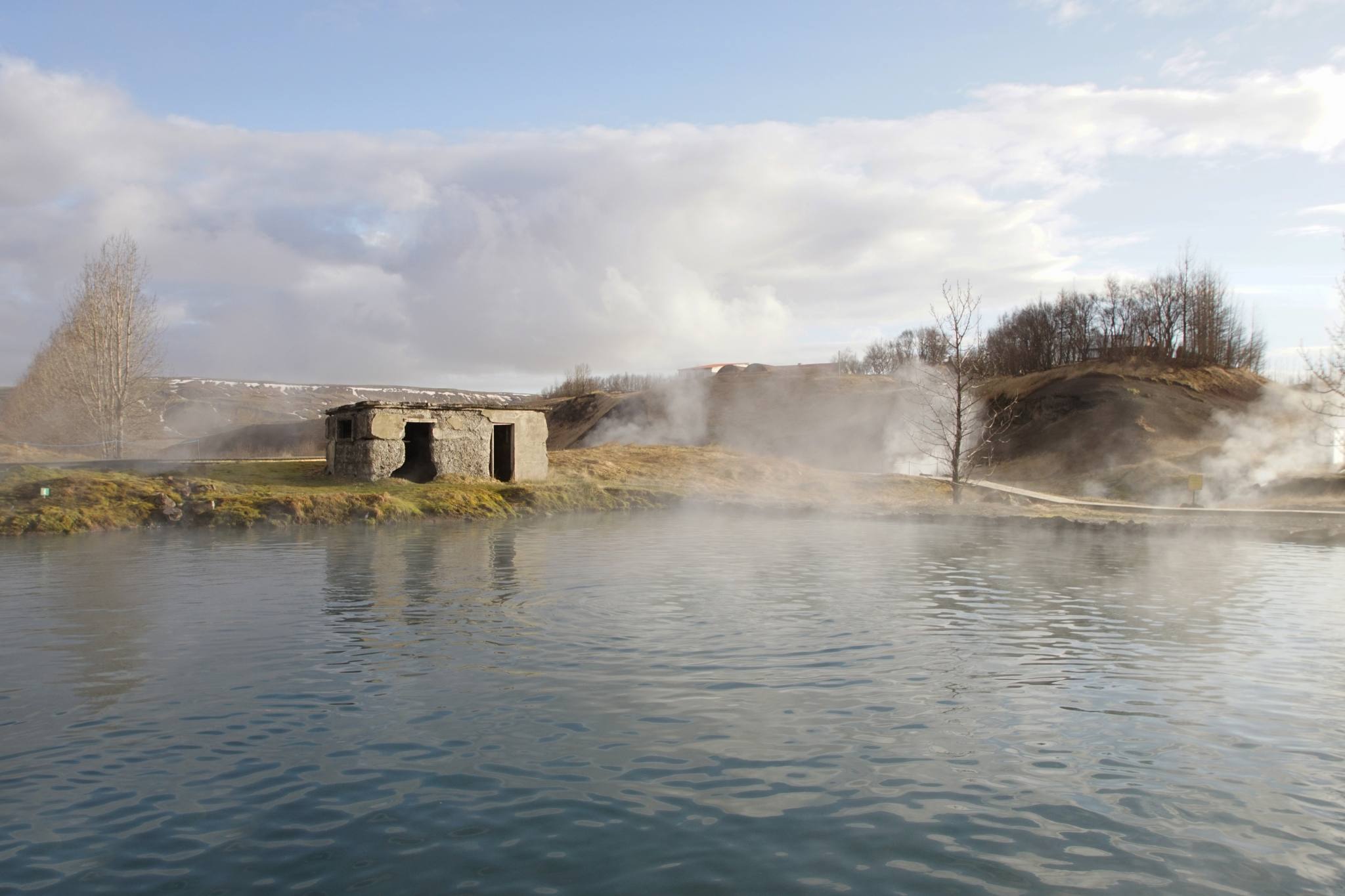 Time to relax
The Secret Lagoon is by far one of my favorite places in Iceland, perfect for relaxing after some sightseeing. It is obviously not a secret, but it is quite a special place you should include in your tours in Iceland. The pool is surrounded by geothermal springs, there is even a very tiny geyser that erupts occasionally. You can see it from the pool while relaxing or having a drink.
Then, we got hungry
Hot tubs always make me hungry. After a nice bath, we decided it was time to head south and find a place to eat. On our way to Iceland's south coast, we drove closer to Hekla, one of Iceland's most active volcanoes. Since the '70s, Hekla has been erupting quite regularly and it is expected to erupt again soon. To learn more about earthquakes and eruptions, we made a quick stop at the Lava Center. The Lava Center is a great interactive exhibition if you are interested in Iceland's volcanoes. We did not visit the exhibition itself but had a look at the interesting maps they have there, where they monitor any seismic activity or surface movements in Iceland. I have been here a few times and I always find it interesting to see if there is anything happening under the surface of the earth...live! After observing the maps a little, we had lunch at Katla Restaurant, right next to the Lava Center.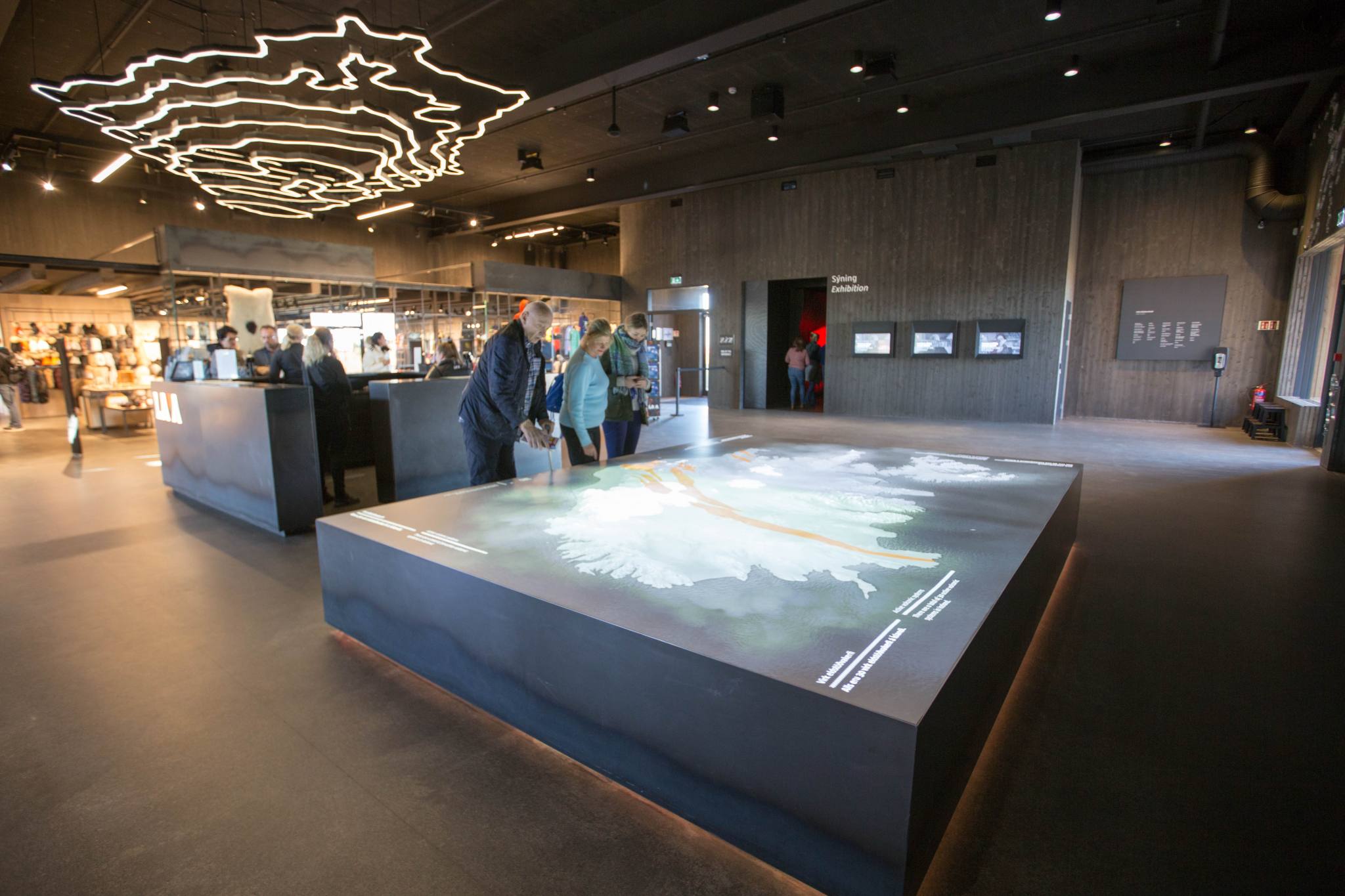 The South Coast
Our journey continued along the spectacular South Coast of Iceland. I personally love exploring this part of Iceland as I find the scenery simply amazing. I think everyone that is staying in Iceland, even if just for a short stopover, should head this way and experience the power of nature. The famous Seljalandsfoss and Skogafoss waterfalls looked as beautiful as always. We, of course, had to walk behind Seljalandsfoss and get soaked before continuing the trip, it is just a mandatory thing to do! We saw elf houses, turf houses, and beautiful mountains.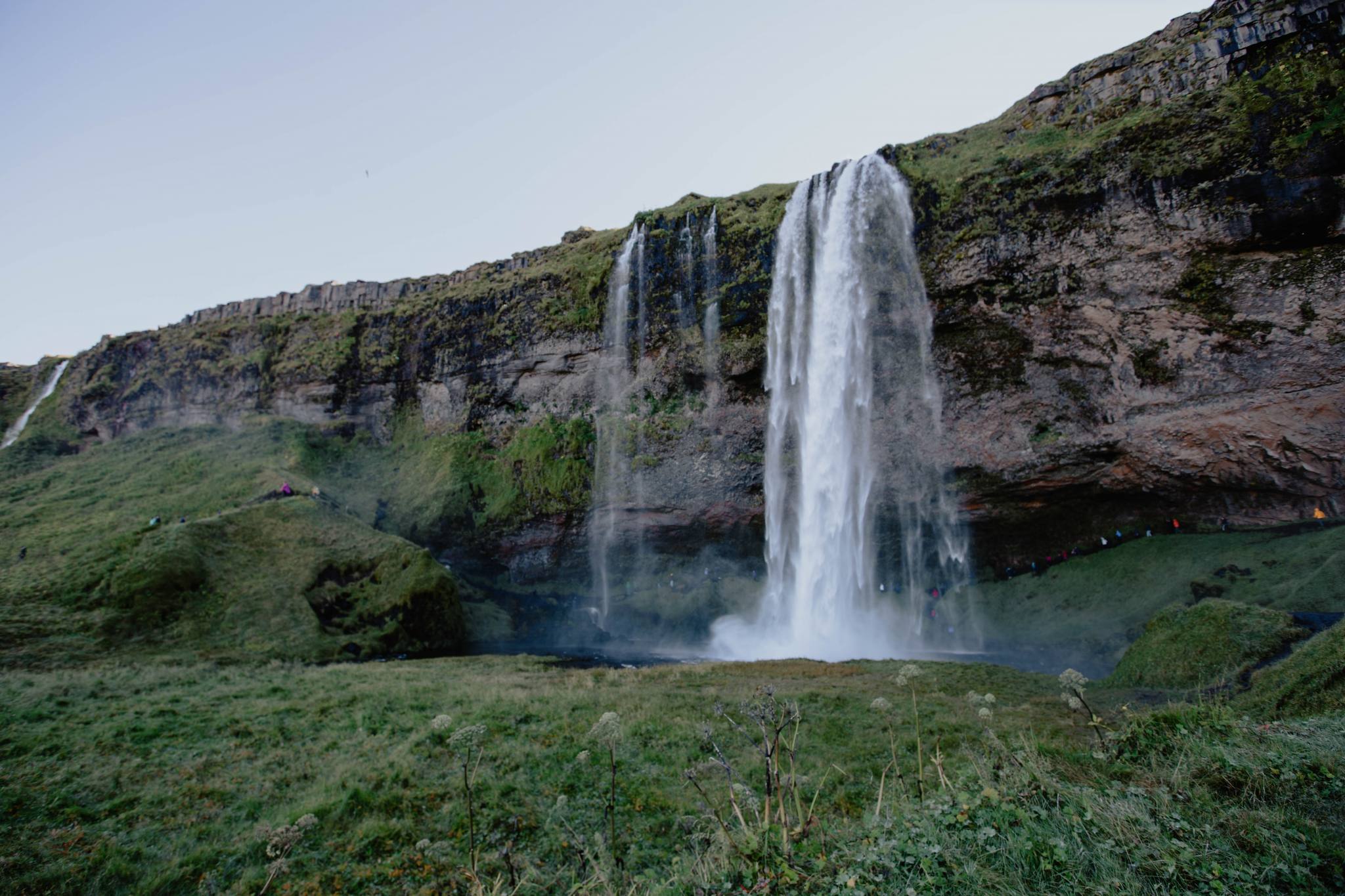 We drove past Eyjafjallajokull, the volcano whose name no-one could pronounce that erupted in 2010 and made Iceland famous all over the world. Solheimajokull glacier was the next stop. We left our jeep in the parking lot and walked very close to this amazing glacier and it was so beautiful. The blue, white and black shades of the ice here just make the place look so different and so special, I could have spent hours there just looking at the glacier.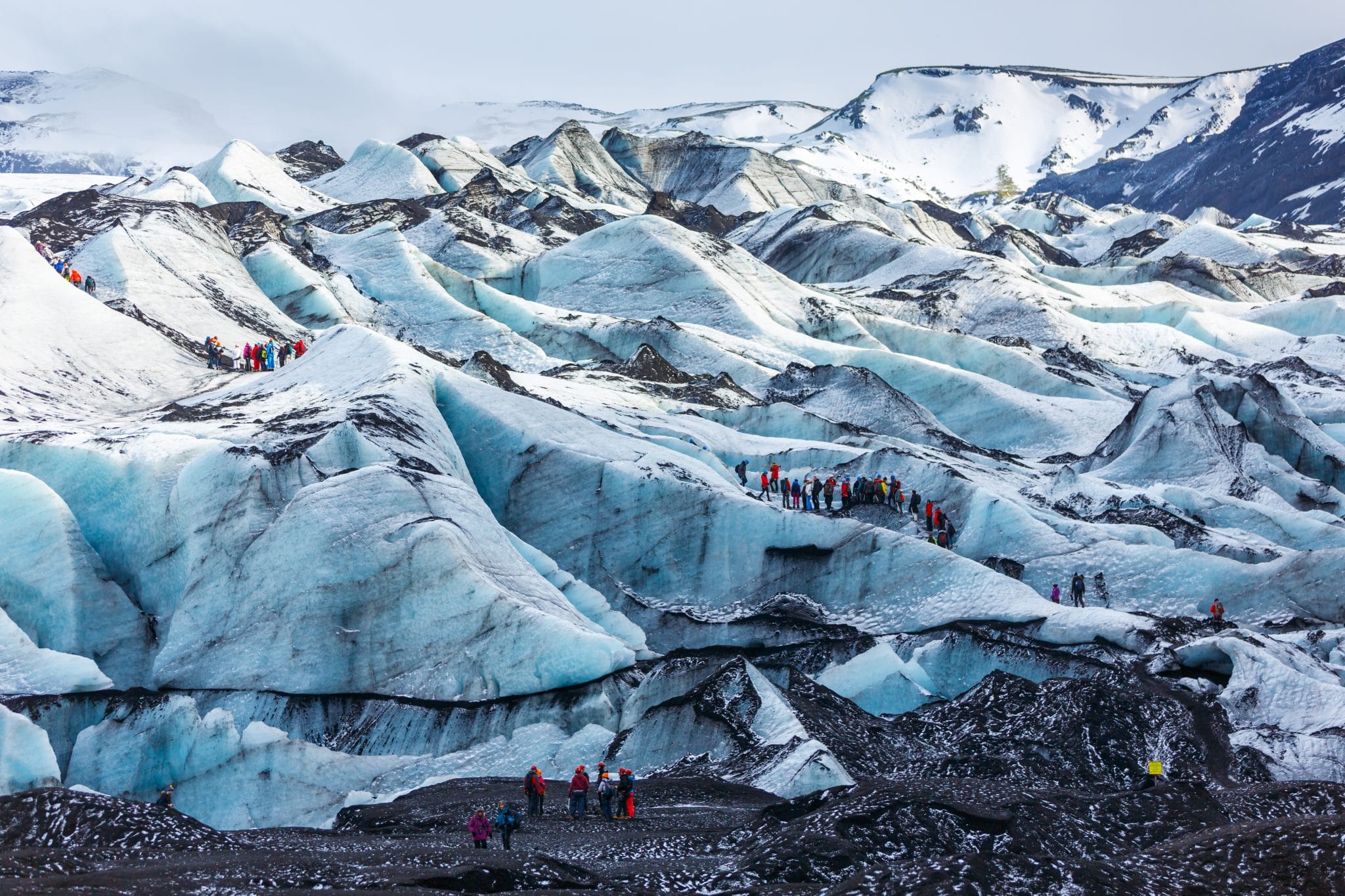 But the time came to continue to our last stops of the trip: Dirholey and Reynisfjara. Dirholey is a cliff from which you have a great view of the black sand beaches around it and Reynisfjara is probably Iceland's most famous black sand beach, with the basalt columns and sea stacks that you see in every picture of the Icelandic South Coast.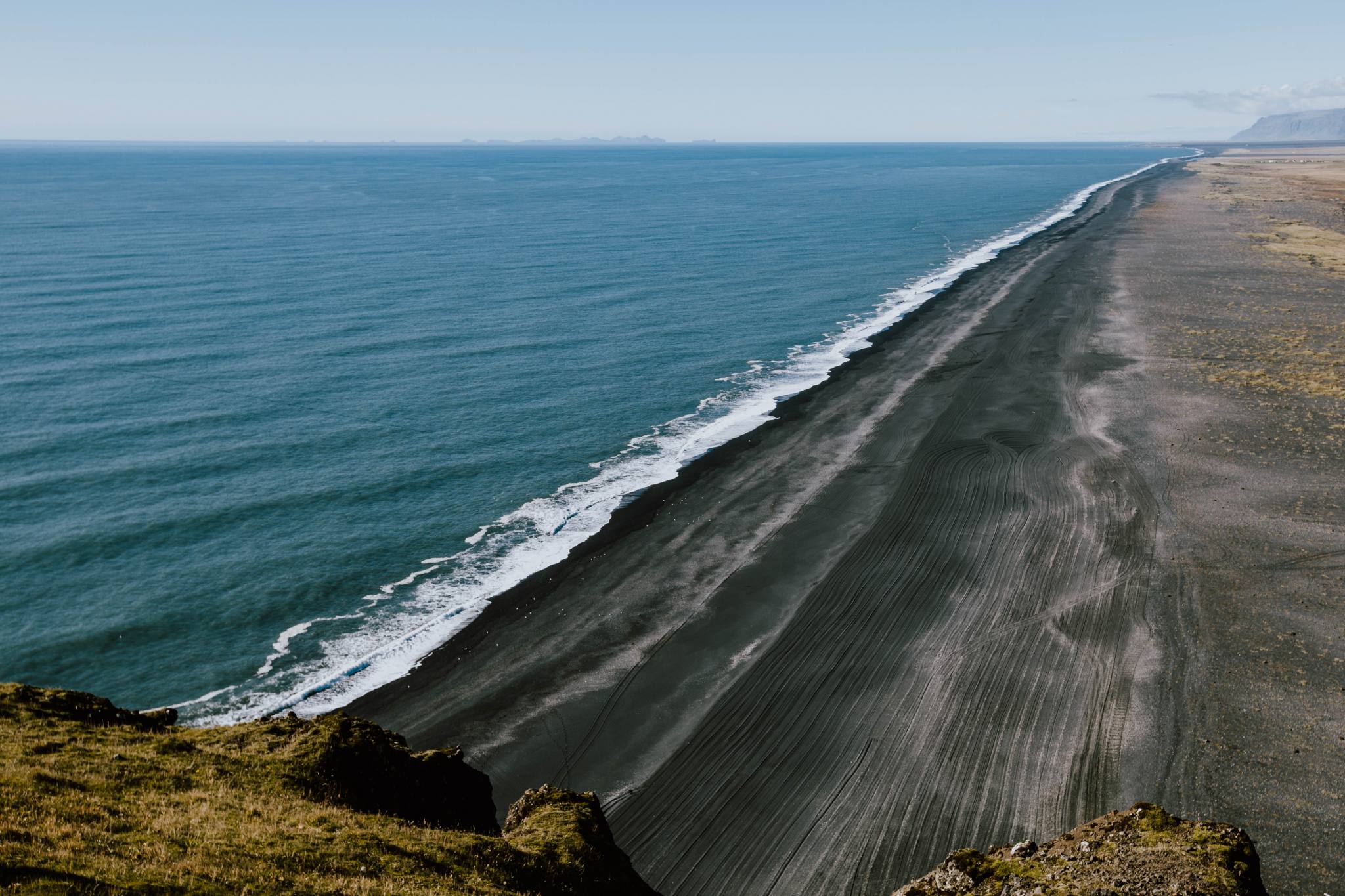 As we were walking in Dirholey we heard some people scream and saw they were pointing towards the ocean. We looked closely… and it was a whale. A beautiful whale was swimming in the ocean just in front of us and it was just a magical experience. We looked at the whale for a while then decided to go back to our comfortable jeep and head back to Reykjavik.
The way back
On the way back, we just relaxed in the seats of our jeep and listened to some music until our luck stroke again. There were some Northern Lights! We got out of the car and spent some time looking at the lights dancing in the sky. It was a beautiful night with clear skies and the show of lights was spectacular. We could not believe how lucky we had been throughout the day.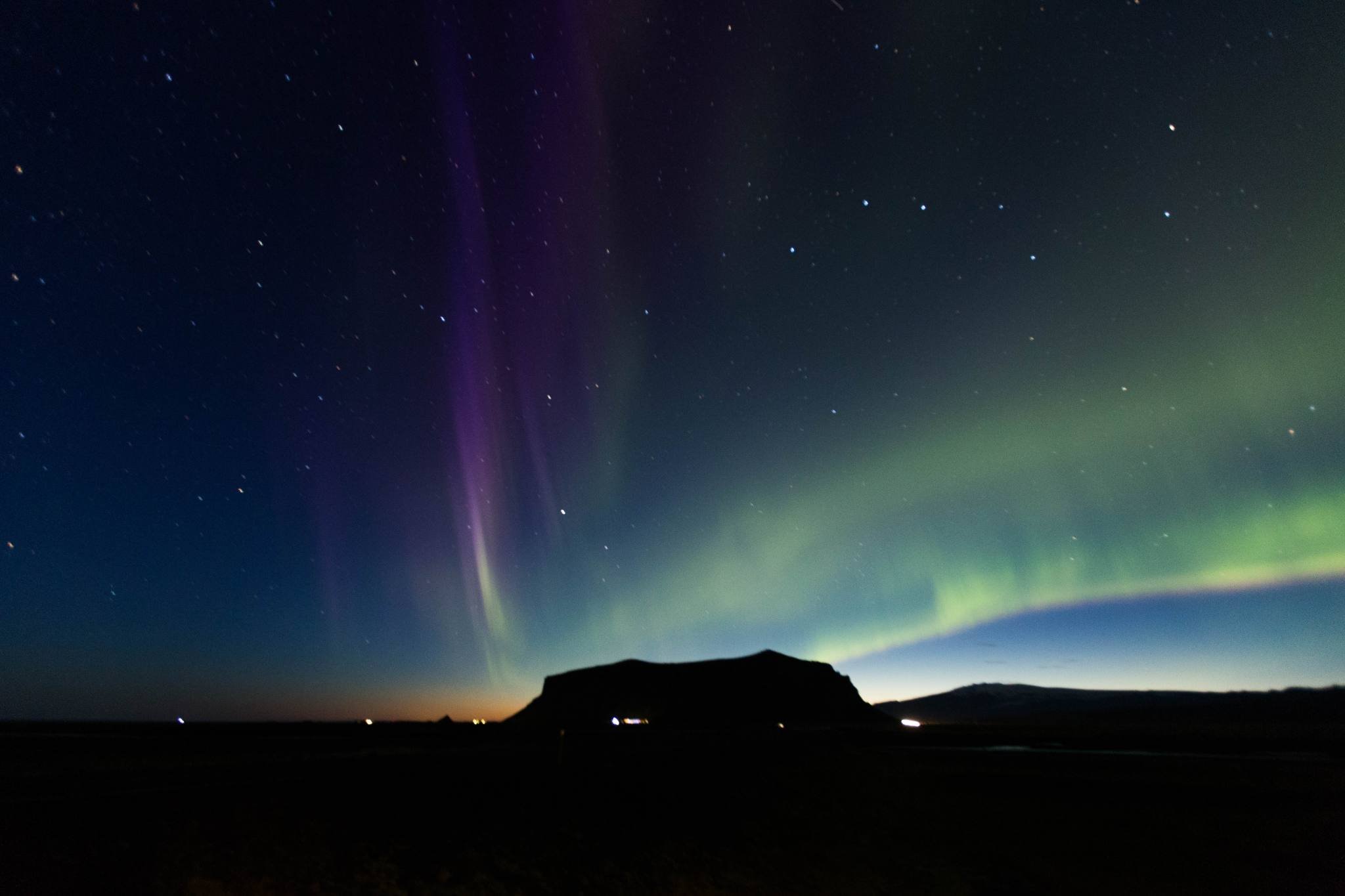 What a way to end such an amazing tour! The Northern Lights are only visible in Iceland from the end of August to the beginning of April and they are weather dependent. They were not the main goal of our trip, but they were a great bonus. So, this is how our Private Golden Circle and South Coast Combo Tour came about. This is a perfect Iceland stopover tour, it is great if you only have a short time in Iceland but still want to see as much as you can in a comfortable and premium way.
Read our blog on why a stopover in Iceland is a good idea. Make sure you also check out our other Iceland Private Jeep Tours. Visit our Facebook to read our reviews*.* Golden Circle and South