Visit Caves in Iceland - Wonderful Ice Caves and Lava Caves
5 minute read - 19 Oct 2018
Want to visit some caves on your trip to Iceland?
Iceland has a large number of different caves: glacier caves, lava caves and man-made caves. Exploring these caves is an unmissable activity in Iceland. Caving is a great activity in any kind of weather, even when it is raining, which can happen quite often in Iceland.
Ice caves in Iceland
The most popular caves in Iceland are the glacier caves, often referred to as ice caves. These form within the ice; they are not permanent and never the same because glaciers are constantly moving. You can only visit ice caves in Iceland in the winter (October to March) as ice caves become dangerous during the warmer months when melting water can cause them to collapse. The most famous glacier caves in Iceland are the Blue Ice Caves which can be found in Vatnajökull, Iceland's and Europe's largest glacier. If you want to visit ice caves, join a tour. Ice is constantly moving and you need to be with an expert guide in order to always be safe when exploring ice caves. So do not venture on glaciers or inside ice caves on your own. It is also good to keep in mind that you need to be in good health conditions to take some of these tours as you will need to walk on ice and do some ice climbing. My suggestion if you want to visit the Blue Caves is to take our spectacular 2 Day Jökulsárlón Glacier Lagoon and Blue Ice Caves Private Jeep Tour. Want to know more about this tour? Check out this blog. For more info about ice caves, check this out.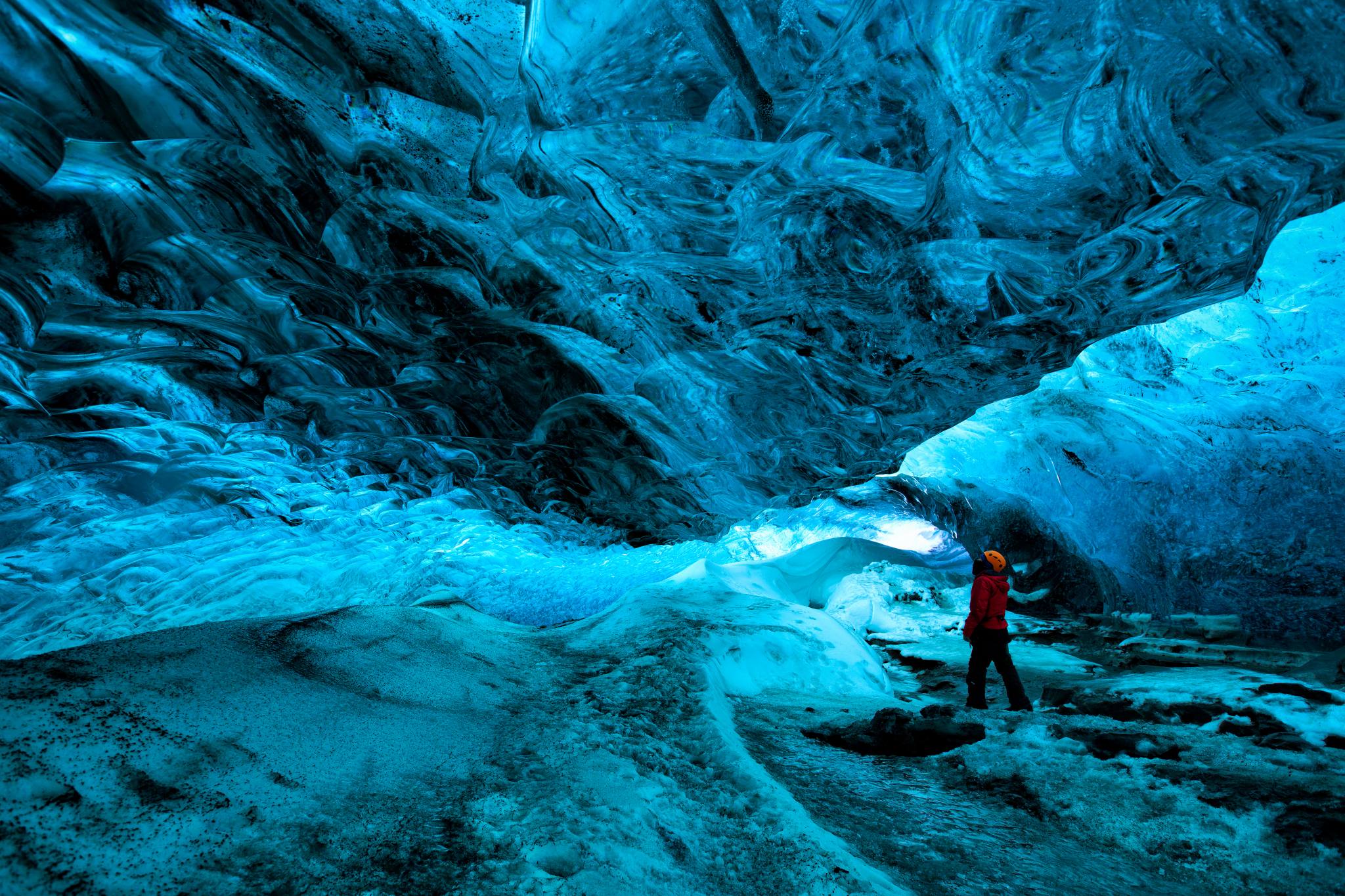 Man-made ice caves in Iceland
Vatnajökull glacier is in the South East of Iceland, about 5 hours drive from Reykjavik. If you don't have the time to go so far, you can take a tour Into the Glacier and visit the ice tunnel in Langjökull. You can make this a one day tour from Reykjavik or add the Into the Glacier experience to our Private Hvalfjordur Tour. On this tour, you will explore the less-known western part of Iceland with its beautiful waterfalls and hot springs. You will also get an amazing opportunity to explore the glacier and see it from the inside, through a guided tour in a man-made ice tunnel. Not the same as seeing a natural ice cave but still a great experience, and this can be done in any season!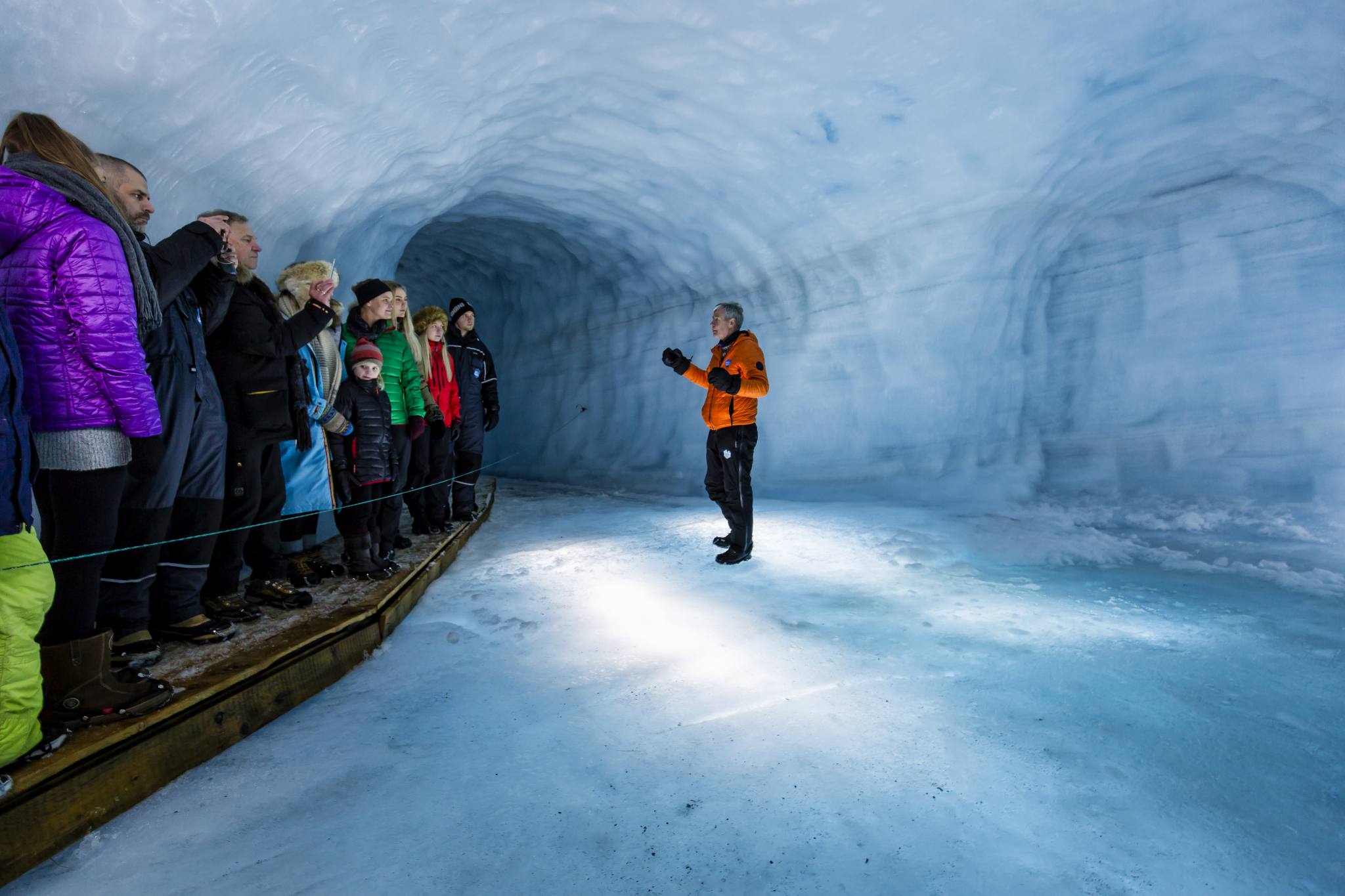 Lava caves in Iceland
The other type of caves you will find in Iceland are lava caves, and you will find a lot of them. Lava caves are usually accessible all year round, most of them with tours where expert and knowledgeable guides will help you understand the nature and history of the caves. There are so many lava caves around Iceland it is hard to choose which ones to point out but my favorite ones, all only accessible with guided tours, are Vatnshellir Cave, Thrihnjukagigur Cave, and Raufarhólshellir Lava Tunnel. Vatnshellir cave is located on Snæfellsnes peninsula, it is a very wide lava cave that changes a lot in the different seasons. If you are taking a private tour around Snæfellsnes, this is a great addition to it. The crater Thrihnjukagigur takes caving to a different level. With the Inside the Volcano Tour you can descend to the bottom of a dormant volcano magma chamber and see all the fascinating colors of the rocks. The chamber is huge, the colors are amazing, this is a once in a lifetime experience that will leave you breathless. Iceland is the only place in the world where you can experience this! It is not the cheapest tour you can take in Iceland but it is so spectacular that you will not regret spending your money on it.
The Lava Tunnel
If your budget does not let you take a tour inside the volcano, you can take a tour of the Raufarhólshellir Lava Tunnel. This is one of Iceland's most spectacular lava caves. Located only about 30 minutes drive from Reykjavik, the cave has very easy access and it is spectacular. The guided tours take you inside the cave for about an hour. You will learn about this natural wonder as you admire all the spectacular colors and rocks formations. Want to visit Raufarhólshellir Lava Tunnel ? Check out our Combo Tour that combines a visit to the lava cave, a tour of the wild Reykjanes peninsula and a relaxing stop in the fabulous Blue Lagoon.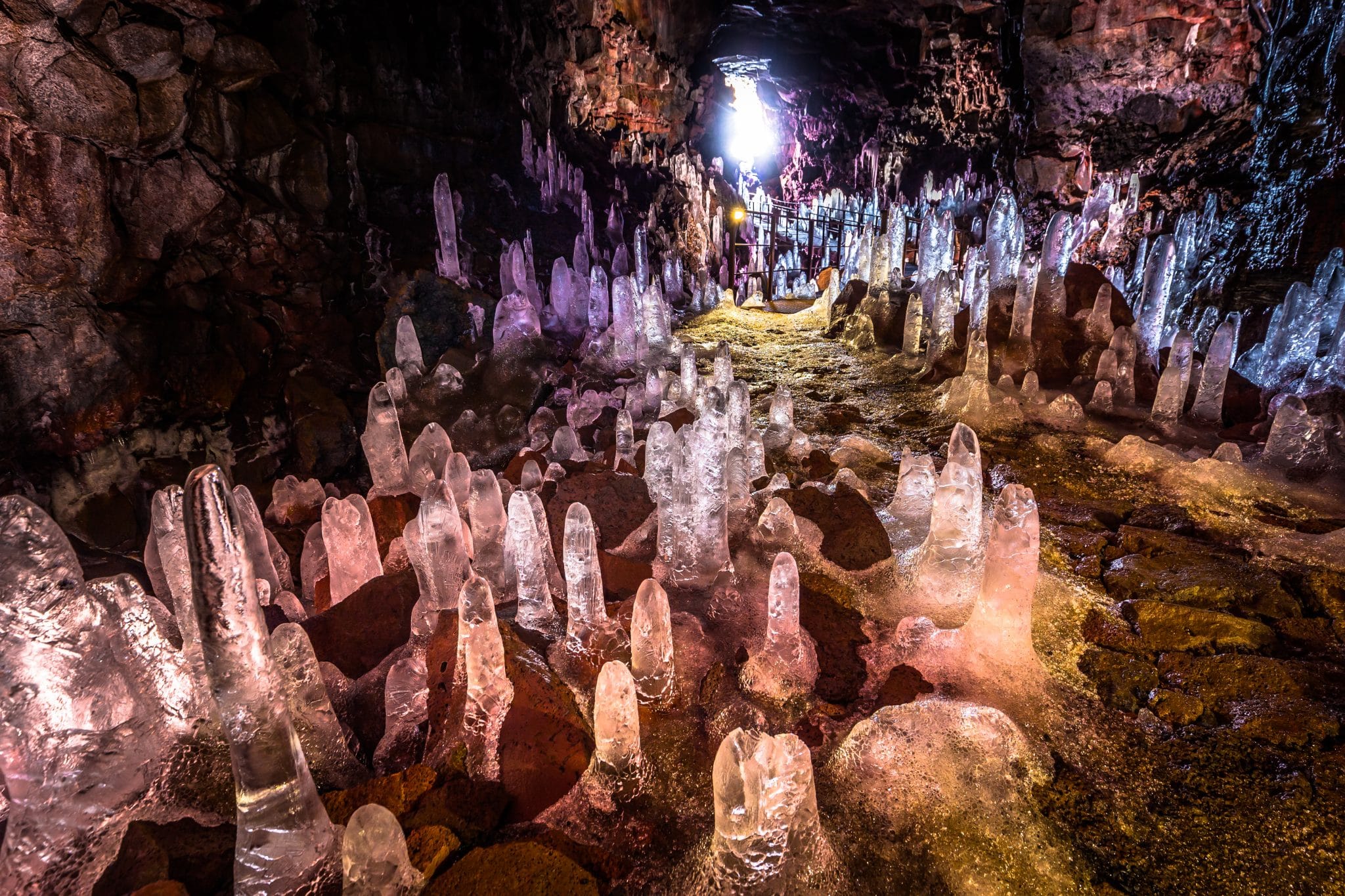 If you are in Iceland and want to learn more about Iceland's nature, visiting a cave is a great idea. Whether it is an ice cave or a lava cave, there is always a lot to learn about Iceland's geology, which will make you fall in love with the land of ice and fire even more.